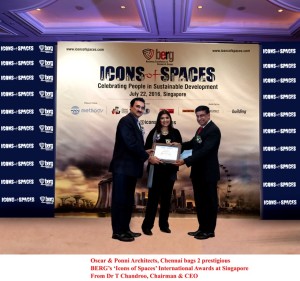 Oscar & Ponni Architects was Awarded Architecture & Design Awards in the two categories – Best Architecture – commercial and Interior Design – Best Leisure Project.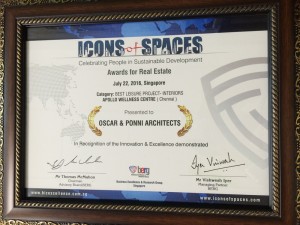 Chennai, August 2016 – The Chennai-based Oscar & Ponni Architects has been conferred the BERG's Icons of Spaces Award in the Best Architecture – Commercial Project of the Year and Interior Design – Best Leisure Project categories. Oscar & Ponni Architects have won more than 71 Awards so far.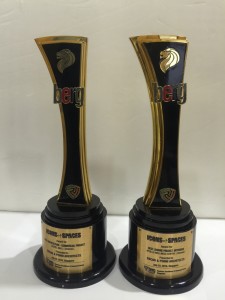 In the Best Architecture – Commercial category, the Laurel Mall project brings urban density, green space, excellent water bodies, gazebos, outdoor band area, product launching stage and modular retail configurations together under one roof.
In the Interior Design – Best Leisure category, the Apollo Wellness Centre covers about 8000 square ft of area in Ground, First and Second floor that includes a Gym, SPA and Meditation space. Apollo Hospitals wanted to create an environment to accommodate a wholesome fitness studio, traditional massage and yoga therapy.
The BERG Real Estate Awards were introduced by Singapore-based organisation Business Excellence & Research Group Pte Ltd in 2014. The Awards, now called the ICONS OF SPACES, shines the spotlight on the high calibre work within the real estate industry, encompassing construction, architecture and interior design. With a professionally run evaluation system, they also bring the real estate industry of the participating countries to the world stage.
The 3rd edition of BERG Real Estate Awards, held at Raffles Town Club Singapore, dwelt on the challenges on 'Urban Solutions & Sustainable Development" and honored developers, architects, interior designers and other service providers in the real estate/ property sector across India, SE Asia & Middle East.
While announcing the theme for the third edition of the premier event, Managing Partner of BERG, Mr. Vishwesh Iyer said that this year the focus was on the booming international real estate sector. This time, the nomination process attracted a lot of interest from India and other countries in Asia as well, he stated.
"Icons of Spaces provided a unique platform for not just recognising the great work, but also knowledge sharing and business networking opportunities. Based on a selection process that encompasses integrity, transparency, consistency and fairness, the aim is to provide global benchmark and recognition," Mr. Iyer added.
ABOUT BERG
Business Excellence & Research Group Pte Ltd (BERG), is a Singapore-based entity committed to nurturing and promoting business excellence across diverse sectors. In this quest, BERG has gone on to establish thought leadership platforms in a host of domains since its inception in 2013.  BERG's Advisory Board and Executive Team brings together people with diverse international experience. BERG has a presence across key emerging markets of Singapore, Malaysia, India, Thailand, Philippines, Vietnam and Middle East. (www.bizexcellence.com.sg)
For further information: contact@bizexcellence.com.sg