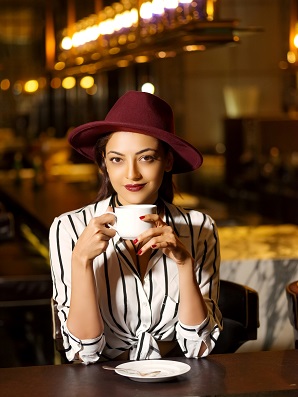 Chennai, March 18th, 2017 — South Superstar Kajal Aggarwal announces her new mobile app Kajal Aggarwal Official App to be released on 20thMarch, 2017 in collaboration with New York based startup escapex. The new app will let fans access Kajal's social handles (Facebook, Twitter, Instagram) and interact with her directly through the in-app social feed. This provides an unparalleled experience for large base of fans, who will be able to enjoy unique & exclusive content from Kajal and will be able to become an integral part of Kajal's World.
The app will provide unique features like push notifications, Featured Videos, Superstar posts, contests, Superfan badges, Subscription and Live Broadcast and Live chat between Kajal and her fans.
Superstars: The latest breakthrough in fan engagement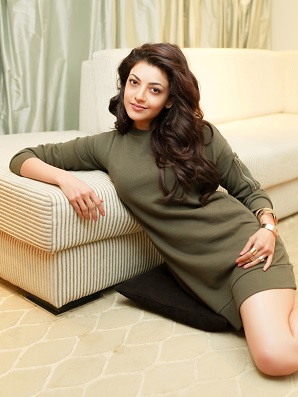 An exciting, patented feature will transform how fans interact with Kajal by giving them the option to boost their or their peers' comments to increase visibility and actually be seen by the star herself. By turning recognition into virtual currency, the entire fan base can trade their earned or purchased in-app currency to promote themselves and others to the top of the comments feed and become Top Fans. This one of a kind tool also increases fan-2-fan engagement, while giving users a true sense of community.
Kajal Aggarwal says"I am thrilled to launch my own app which will provide an unparalleled experience to my fans. There are lots of exciting features and through this app my aim is to bridge the gap and solidify my relationship with my audience. All mediums of social media that I'm present on will be clubbed together on this one platform and I am looking forward to a personal interaction with my fans who are my extended family."
Native Ads: Keeping the app free for the fans
For Stars like Kajal Aggarwal, this kind of independent digital route offers a major advantage as it makes her own a platform and abilityto build a community on her platform. Being completely free for fans, the app will display the same advertising content sold by big networks. The same targeted ads these users see on Facebook, Twitter and Google are now bringing revenue to the person who produces the content that drives people to these apps and websites in the first place.
An artist-owned app garners the star a greater slice of ad revenue, while also scooping up data on which content fans like most and being able to directly sell all sorts of merchandise. By creating her own branded app, Kajal hopes to provide her massive fan base with a better social experience and a very intimate and interactive association.
"It's a privilege for us to partner with Superstar Kajal Aggarwal who has a rare towering presence in both Indian Regional films and Bollywood. Kajal is one of the most popular and respected celebrities in India, her love for her fans will now be further expressed through her pioneering app. For the first time her huge social audience will be able to seamlessly engage her and be recognized. By owning her own app, Kajal will be able to fully express her creativity and love for her fans directly, while maintaining full control of her content." said Sephi Shapira, CEO EscapeX
About Kajal Aggarwal
Kajal Aggarwalone of the most popular Indian celebrities has established a career in the Telugu, Tamil and Hindi film industry and has been nominated for four Filmfare Awards South. The leading lady of Blockbuster movies Singham with Ajay Devgn and Special 26 with Akshay Kumar has made her impact in Bollywood. In addition to acting, Kajal participates in stage shows and is a prominent celebrity endorser for brands and products. She is one of the leading celebrities in the social media with 27 mn followers.
Kajal Aggarwal made her acting debut with the 2004 Bollywoodfilm Kyun! Ho Gaya Na and had her first Telugu film release in 2007 Lakshmi Kalyanam. In the same year, she starred in the box office hit Chandamama, which earned her recognition. The 2009 historical fiction Telugu film Magadheera marked a turning point in her career, earning her critical acclaim. It ranks among the highest-grossing Telugu films of all time and fetched her Best Actress nominations at several award ceremonies including Filmfare.
She subsequently rose to prominence by starring in several critical and commercially successful Telugu films like Darling, Brindavanam, Mr. Perfect, Businessman, Naayak, Baadshah, Govindudu Andarivadele, Temper, Khaidi No. 150 and established herself as one of the leading and highest-paid actresses in Tollywood.Kajal gained further recognition by featuring as the female lead in the high-profile Tamil projects Naan Mahaan Alla, Maattrraan, Thuppakki, Jilla and emerged as a leading actress in Kollywood as well.
In the recent past Kajal has been the leading lady in Sardaar Gabbar Singh, Brahmotsavam, Do Lafzon ki Kahani. In April 2016 she signed another Telugu film directed by Teja starring opposite Rana Daggubati. In June 2016 she signed Vivegam starring opposite Ajith Kumar. In July 2016 she signed a Telugu film Khaidi No. 150starring opposite Chiranjeevi for the first time in his 150th film. In 2016 her song titled "Pakka Local", was well received by the audience. In December 2016 she signed Vijay 61 starring opposite Vijay. Kajal's first 2017 release was Telugu-language action drama film Khaidi No. 150starring opposite Chiranjeevi.
The most desirable woman of 2016 as declared by Hindustan Times Hyderabad in a poll, Kajal Aggarwal now takes her next big step of launching her own app to stay connected with her large base of fans.
About escapex
The Kajal Aggarwallapp is developed by escapex, a New York startup that produces white label apps for artists such as Bob Marley, Enrique Iglesias, Wyclef Jean, Sunny Leone, Remo D'Souza, Neha Kakkar, Amy Jackson and 60 other celebrities. Founded in Dec 2014 by mobile and entertainment entrepreneurs, escapex has 70 team members working around the world with a mission to build a different engagement model, to reimagine social media where control is in the hands of creators, not platforms. Where those driving engagement are compensated, not the networks they use. Where communication is direct, no intermediaries. Where everyone can be seen.