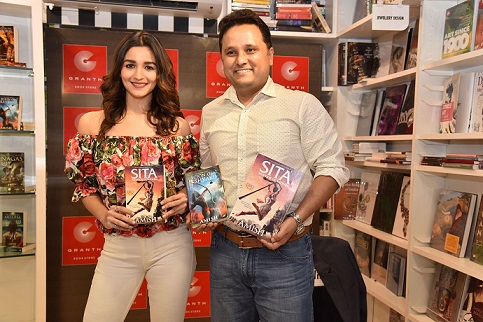 National, May 16, 2017: Ace Bollywood actress, Alia Bhatt graced the trailer launch of Amish's highly-anticipated book, 'Sita – Warrior of Mithila' held on 16th May at Granth Bookstore, Juhu. Amish along with Alia unveiled the fearless warrior visual of Lady Sita through the unique book trailer.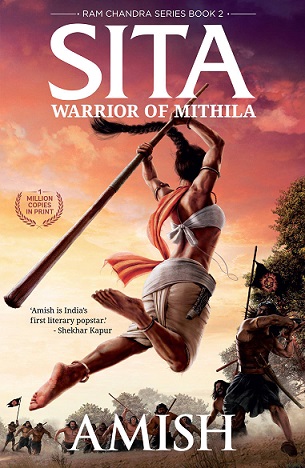 In Sita – Warrior of Mithila, Amish showcases Lady Sita in a completely different avatar, unlike anything we have seen or heard in modern times. In Amish's book, Lady Sita will be depicted as a strong and independent woman, which is truer to many ancient versions of the Ramayan like the Valmiki Ramayan and Adbhut Ramayan.
This unique portrayal of Lady Sita has raised anticipation for the book and the new trailer further creates excitement for the readers. Commenting on the trailer for his book, Amish said, 'I am delighted to have launched this trailer, to give an audio-visual image of Lady Sita the way she is in my book. And I am equally delighted that Alia, a strong woman achiever who has balanced commercial cinema with social messages, graced this event to launch the trailer.'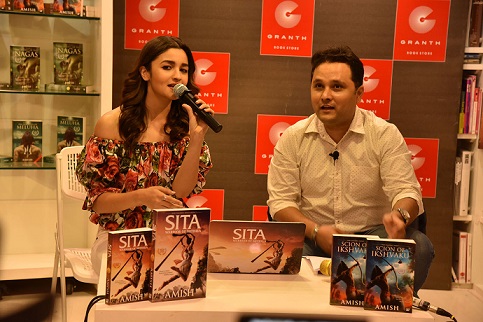 Alia, who is a perfect representation of the modern-day women, was very excited to see the different shades of Lady Sita that will be showcased in Amish's book, 'Sita – Warrior of Mithila'. The actress is known for creating her mark in Bollywood by consciously opting for diverse and powerful roles. Speaking at the trailer launch, Alia said, "It was great to have met Amish for the first time for his new book Sita – Warrior of Mithila's trailer launch! And I am glad that our first meeting was so special. I have read the Immortals of Meluha and loved it. I think Amish has a knack of expressing our mythology in a very contemporary modern way. He is bold and brave and I like that about his books! His books are not just books… They are an experience!"
The much-awaited book Sita – Warrior of Mithila, Book 2 of the Ram Chandra series, will release on 29th May in Mumbai. Fans who can't wait to get their copy, can pre-order the book here:
http://bit.ly/SWOM-AZ
http://bit.ly/SWOM-FK
http://bit.ly/SWOM-SD
Also find appended below the link of the live video of the cover launch event.
Trailer Link: http://bit.ly/SitaWarriorOfMithila-OfficialTrailer
FB Live Link: https://www.facebook.com/authoramish/videos/1386086094815094/