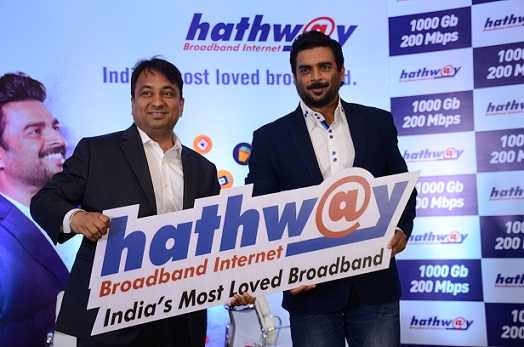 Photo caption:
Actor  R Madhavan roped in as the brand ambassador for hathway broadband (L-R) Mr. Rajan Gupta – M.D Hathway, R Madhavan.
Hathway ropes in the versatile and popular actor as the new brand ambassador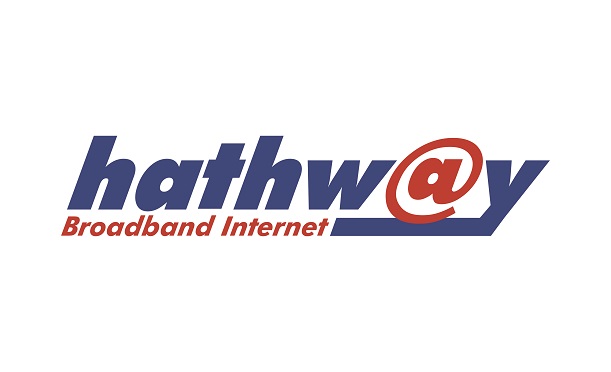 Starting from Rs.999 onwards per month with speeds of 150 Mbps and 1000 Gb  data download
200 Mbps  and  1000 Gb  data  @Rs 1299 /month
Maddy to represent Hathway Broadband in a new pan India campaign
Chennai, 16th May 2017: Hathway broadband, India's leading player in fixed line broadband internet service announced the appointment of actor Madhavan (popularly known as Maddy) as the national brand ambassador, adding star power to drive the internet and broadband business.
Talking about the power of high speed broadband actor Madhavan said, "Internet is the future of the new India. The power of broadband connectivity to make services and applications available to all is fundamental in transforming India digitally. I am happy to be associated with a brand like Hathway that is committed to the vision of digital India."
Proudly welcoming the actor into the Hathway family, Mr. Rajan Gupta, Managing Director of Hathway Cable & Datacom Ltd said, "It is quite well known that actor Madhavan has been among the early movers in tapping into the digital phenomenon and we are extremely proud to have him as the face of the brand. Maddy's huge popularity, pan India acceptance and charismatic personality as the youth icon, will help us increase our customer footprint across India".
Hathway will be shortly rolling out a multimedia campaign featuring the new brand ambassador  that will highlight Hathway's cutting edge GPON , Fibre to home (FTTH) technology and Ultra High-Speed broadband network
With the growing number of internet consumers, speed and data plan have always been the constant benchmarks for choosing broadband connection.  With the roll out of GPON Fiber to home technology, Hathway seeks to create a whole new breakthrough in the internet broadband industry with unprecedented speed at affordable mass pricing while offering practically unlimited data. Through this Hathway aims to democratize broadband, making it accessible for internet consumers pan India.​