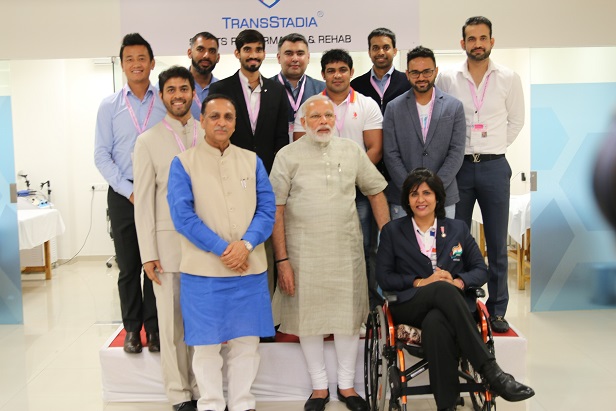 (Photo Caption)
Hon'ble PM, Shri Narendra Modi and Chief Minister of Gujarat, Shri Vijay Rupani standing alongside eminent Sportspersons and Olympians – Bhaichung Bhutia, Anup Kumar, Srikant Kadambi, Gagan Narang, Sushil Kumar, Pullela Gopichand, Irfan Pathan, Parthiv Patel, Deepa Malik along with Udit Sheth, Managing Director, TransStadia at the inauguration of Asia's finest multi-purpose stadium in Ahmedabad today.
Inaugurates integrated sports science facility – TransStadia Sports Performance & Rehab Centre
What the PM said:
At the inauguration of The Arena By TransStadia in Ahmedabad today, Hon'ble Prime Minister, Shri Narendra Modi said, "Ten years ago, this spot in Kankaria was completely different with only a single old building. Now after the completion of Udit's dream, this beautiful structure in the form of a world class multi-purpose stadium, is in front of the country for all to see.
I would insist all the sportspersons present here to go through the various facilities that TransStadia offers from across the globe, right here in India, so they can motivate the youth of 'New India'. I would request all the schools in Gujarat and Gujarat Government to get their students to witness the facilities present at The Arena so they know the world class technology and science required to achieve sporting glory.
Sports plays a vital role in the life of an individual. Today sports is a viable career opportunity for youngsters. The sweat and hard work of sportspersons is a different kind of service to the nation which gives billions of us a reason to stand tall with pride. I am confident that in the coming years India will become a bigger power in sports globally."
Chennai: July, 2017, will forever be etched as a landmark day in the history of Indian sports as it witnessed the Hon'ble Prime Minister of India, Shri Narendra Modi, inaugurate the most advanced integrated sports stadium in the world, 'The Arena by TransStadia' in Ahmedabad, Gujarat, India's first and only successful Public Private Partnership for Urban Sports Infrastructure.
The PM reviewed the stadium, its facilities and operations accompanied by Harish Sheth, Chairman and Udit Sheth, Managing Director of SE TransStadia. The PM first visited and inaugurated the state-of-the-art TransStadia Sports Performance and Rehab Centre that aims to build a strong and healthy India through its human performance labs, non-invasive treatment, assessments and tailor-made fitness programs. The assessment and training equipment at the centre is available for the first time in India – Pro Reaction Timer, Swift SpeedLight, Touch Mat/Speed Mat and more. He also visited the mobile medical van that is equipped with specialized doctors to test and guide children across the country, giving them insights to different sports best suited to their skills. The sports science centre offers maximum relief and medication to injured individuals and also sportspersons that demand the highest level of fitness.
Speaking on the occasion, Udit Sheth, Managing Director, SE TransStadia said, "We are honoured and grateful to have the Hon' PM Shri Narendra Modi inaugurate the very project he envisioned with us. This is the way we make viable sports infrastructure with world-class technology and jump utilization thus creating diverse and strong revenue models where sports can become an industry. We are confident that this new city centre model for every urban area will change the way India performs in sports while many other activities take place across wellness, leisure and more. We have built the most modern stadium in the world."
The Prime Minister also witnessed the breath-taking view of the stadium and the temperature controlled infinity swimming pool from the 5th floor along with the sprawling body transformation centre, and later visited the indoor sports facilities of The Arena. He also visited the spacious children's play area. Supporting this event with their presence were India's finest sports superstars and legends – ace badminton coach Pullela Gopichand; Olympians Srikanth Kidambi, Gagan Narang, Sushil Kumar; Paralympian Deepa Malik; former Indian kabaddi captain Anup Kumar; ex-Indian football captain Bhaichung Bhutia, and Indian cricketers Irfan Pathan and Parthiv Patel, both having played domestic cricket for their home state of Gujarat.
As he arrived on the football pitch amongst a frenzied audience, Hon'ble PM was introduced to the various global patented technologies incorporated at the Arena, including T-Box seating and StadiArena, that converted into an indoor arena with a click of a button by the PM within minutes unveiling the stage. The Hon'ble PM was welcomed by the CM of Gujarat Shri Vijay Rupani and Deputy CM of Gujarat Shri Nitin Patel along with other dignitaries. Shri Narendra Modi felicitated sportspersons of Gujarat, which supports players capable of winning medals at the international level and addressed a crowd of over 16,000 that included young athletes, coaches, principals and students.
Leading India to the forefront of sports and sports Infrastructure development, integrated and self-sustainable complexes like The Arena by TransStadia that has a strong legacy plan for sports, business, entertainment, MICE and wellness.
QUICK FACTS
FIFA Standard Football Stadium with a seating capacity of 20,000 people
Patented Technologies to enhance spectator experience:
o  StadiArena: air-conditioned 32,000 sq. ft. pillar-less multi-purpose indoor arena
o  T-box: modular and retractable seating systems
o  Turf Protector: world's only turf protection system manufactured from truly translucent HDPE material, it allows for continuous photosynthesis, which ensures optimal turf health, together with a 30-year UV degradation guarantee
o  Sustainable site development
o  Water conservation by rainwater harvesting, mist fire-fighting and zero waste water discharge with a state-of-the-art sewage treatment plant and water treatment plant
o  Decreasing load on water resources by reusing and recycling 100 per cent of used or treated water
o  Energy-efficient building by providing terrace gardens & energy-efficient equipment
o  16,600 sq m of green belt and landscape, including vertical greenery
o  Maximum use of recyclable materials and recovered materials
o  Improving indoor environmental quality by using maximum natural lighting
Sports Performance & Rehab Centre:
o  Recovery & rehabilitation program
o  Nutrition planning centre
o  Non-invasive treatment of sports injuries
o  Assessments & Interventions
o   Holistic development through sports for all programs
o   Coaching for Nutrition
o   Psychology Development
14 sports facilities at EKA Club –The best in India
o  Multi-sports hall for Futsal, Volleyball, Basketball, Badminton
o  Badminton courts
o  Basketball courts
o  Squash courts
o  Table Tennis courts
o  Tennis courts
o  Volley Ball courts
Roof top infinity temperature controlled swimming pool
16000 sq ft body transformation centre