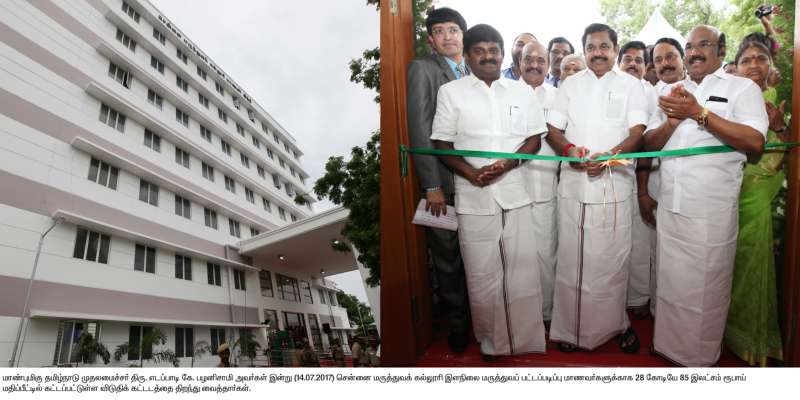 Chennai, 14th July 2017:
Honble Chief Minister inaugurated the Men's Hostel of Madras Medical College for the expenses of Rs.28.85 crores.
For the great sense of High facility treatment should reach to poor peoples in Government Hospitals. Government Hospitals make strengthen the facilities in in interior and equipment.
Former Chief Minister Late Selvi J. Jayalitha's Government from past 6 years  involved and allocated fund spend Rs.1573.23 Crores in hospital renovation and innovation and Purchased Medical Equipment for Rs.401.97 Crores.
In Higher Level Medical Centers 5768 new job placements for various system.
Chennai Medical College students of Under Graduation Medical Students Men's Hostel were build in 1959. Int his Medical College first year Medical Graduation students admission are increased 250 numbers.
450 students newly added in each and every year for Medical Under Graduation, B.D.S., B.Pham.
Tamil Nadu Government had a response to give accommodation to the medical students. Former Chief Minister Late Selvi J. Jayalalitha allotted the Old Central Jail for Chennai Medical College Men's Hostel and contributed the amount Rs.28.85 Crores for construction.
Honble Chief Minister of Tamil Nadu Mr. Edapadi Palanisami inaugurated the Men's Hostel of Madras Medical College. In this hostel contains 1.28,076 sqft. Building area. Built in ground floor with 6 floors. 178 Rooms for 534 students to stay.
In this hostel had Lift, Modern Kitchen, Gym, Multi Purpose Hall, Water Purifier Machine, Solar Electricity Power, Water Heater anf many more facilities.
In this function, Dr .C. Vijayabaskar, Health Minister of Tamil Nadu, Honorable Ministers of Tamil Nadu, M.P'S & M.L.A's, Smt. B. Valarmathi, Chairman, Textbooks & Educational Service Corporation, Mr. J.Radhakrishnan I.A.S., Govt. Chief Secretary, Public Welfare & Family Welfare, Dr. A.Edwin Joe M.D., B.L., Director of Medical Education, Dr. Narayana Babu, Dean, Chennai Medical College, Government Higher Officials, Doctors, Nurses, Non-Medical Staffs and Chennai Medical College Students were gathered in huge volume