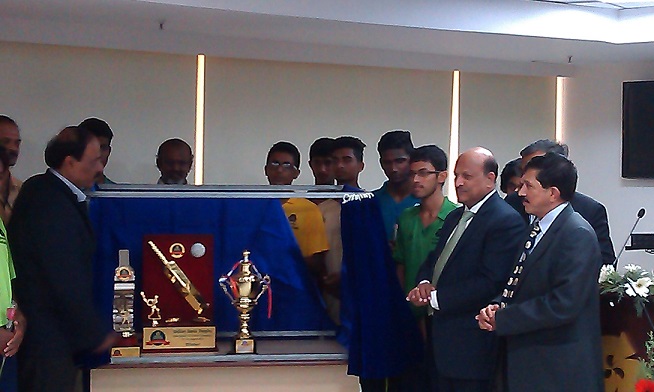 Indian Bank occupies a unique position in the field of sports in our country for more than three and half decades. Along with its banking services.
Indian Bank has been at the forefront of promoting sports and Education across the country. Indian Bank recruiting prominent Sports persons over the years. Several of our sports persons, which includes Olympians, have represented the country and brought laurels to our Bank.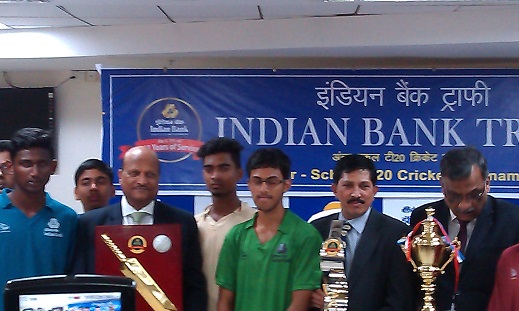 It won't be out of place to say that " Indian Bank and Sports are Synonymous" going hand in hand. In other words, Indian Bank has a legacy in promoting sports activities. It boasts of teams in 6 disciplines like Athletics, Basketball, Cricket, Football, Hockey, and Volleyball.
The Indian Bank Cricket team has won All India and Southern Region Inter Bank Titles quite a number of times. Bank's Cricket team has also won several prestigious tournaments throughout the country.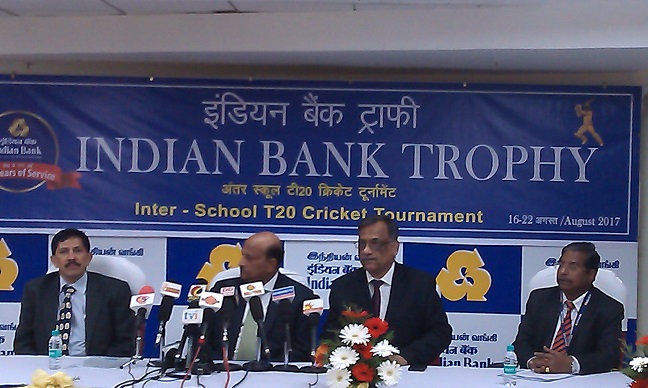 The following cricketers from our Bank recruited under sports quota have represented the country and state:
M.Venkataramana, Former Indian Off Spinner.
K.Srikanth, represented Duleep Trophy and Karnataka state in the Ranji Trophy for 5 years and Tamilnadu for 2 years.
K.Shyam Sundar represented Indian youth Cricket team in the world championship held in Australia.
Fabin Heaton, U.S.Kumar, N.P.Rajagopal, C.K.Suresh, Shyam Sundar Bhatt, S.Mahesh, E.Suresh, Jesuraj, M.P.Rajesh and K.Sivakumar represented Tamilnadu State team in Ranji Trophy.
Chakradhar Rao, Krishna Mohan, V.Ram Mohan & Moshin Basha represented Andhra Pradesh State team in Ranji Trophy.
Narayana Menon & Varghese represented Kerala State team in Ranji Trophy.
K.S.Seshadri represented Rajasthan State team in Ranji Trophy.
P.Sathish Kumar & Rajinikanth represented Tamilnadu in T20 Inter state tournament.
As a part of its sports promotion, our Bank now launches the Indian Bank Trophy – an Inter School T20 Cricket Tournament for schools in Chennai.
The Tournament will be held between 16th and 22nd August 2017 at Loyala College Grounds, Nungambakkam, Chennai.
16 top teams from Chennai will be taking part in this tournament, namely,
St.Bede's Anglo Indian Higher Secondary School, Santhome,
Muslim Higher Secondary School, Triplicane,
SBOA, Anna Nagar,
Bala Vidya Mandir, Luz,
Bhavan's Rajaji Vidyashram, Kellys,
Nellai Nadar Higher Secondary School, Adyar,
St.Patricks Anglo Indian Higher Secondary School, Adyar,
Santhome  Higher Secondary School, Santhome,
Govt.  Higher Secondary School, Ashok Nagar,
Chettinad Vidyashram, MRC Nagar,
P.S.Senior Secondary School, Mylapore,
Vidya Mandir, Mylapore,
Padma Seshadri Bala Brindavan, KK Nagar,
Modern Senior Secondary School, Nanganallur,
Madras Christian College  Higher Secondary School, Chetpet,
PSBB Millennium School, Gerugambakkam
The tournament will be played under Leaugue cum Knock-out Format. The winners & runners up will be awarded with trophies and Best Players awards will also be presented.
Shri. Koshor Karat, M D & C E O of Indian Bank will unveil the trophies in the presence of Exececutive Directors Shri A S Rajeev and Shri M K Bhattacharya on the occasion.