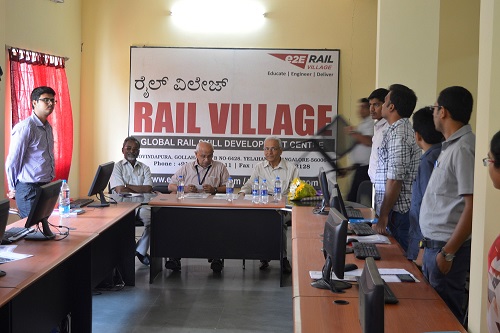 Aims to address skill-gap in railway industry
Bangalore, 16th August 2017: E2E Rail, an emerging leader in railway infrastructure services, backed by Ventureast and Zephyr Peacock, has today launched a 12-week Foundation Course on Railway Signaling for engineering graduates. On this occasion, Mr. V Anand, Ex-General Manager -Southern Railway, addressed the students and spoke about the evolution of the signaling system in the railways and how its one of the most important aspects of rail traffic.
The ETOE Rail Village was set up by ETOE Rail with the vision to develop 'ready-to-deploy' entry level talent for the Indian Railway industry. The organisation offers residential programs for engineering graduates to prepare them for entry level roles across the railway industry. Highly customised courses are offered based on expensive research, corporate experience, and inputs from recruiting teams of top companies.
Mr. Abhijeet Kudva, CEO – ETOE Rail Village, said "We built ETOE Rail village to address the huge need for high quality, capable railway engineers across India and internationally. We are leveraging the latest rail-specific technologies that are being deployed in India as well as in overseas markets to provide the students with insightful understanding, and skills specific to the rail industry. Our customized training helps improve the employability of the students and provides them with opportunities to pursue a career in railways not just in India but also globally."
Students interested in applying for the courses can visit http://www.etoerailvillage.com
About ETOE Rail:
E2E Rail is an emerging leader in railway infrastructure services, focusing on designing, testing and commissioning services across signaling, track and electrification sectors in India and overseas markets. Founded in 2010 by serial entrepreneur Mr. Ganapa Sreenivasa Rao, the company has projects across 40+ locations in India and international markets like Malaysia, UK, USA, Australia, Singapore, Thailand, Qatar, Saudi Arabia and several other countries across the full railway value chain. Clients include several large private and public sector Railway companies like Thales, Siemens, L&T, Alstom, Bombardier, ACC, NTPC, Ramboll, Indian Railways, ATKINS, Hyder, Indian Metros, Scomi, Ansaldo, among others.