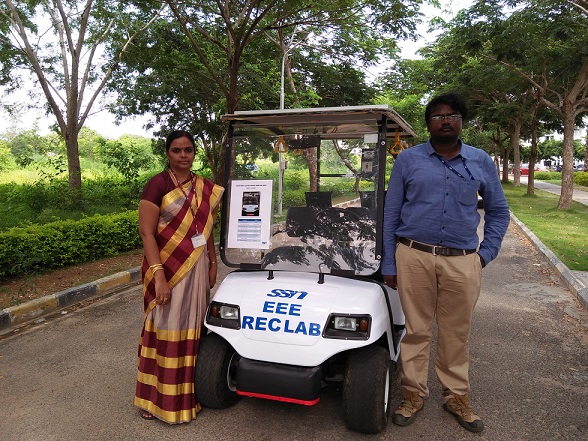 A four seat vehicle, powered with Brushless DC Motor – an industry first
The battery operated vehicle is both solar and electrically chargeable
Can cover up to 70 kms with maximum speed of 40 km/hr on a single charge – an industry first
Chennai, September, 2017 – SSN Institutions (the first initiative of the Shiv Nadar Foundation in the field of education) today announced the development of a solar-powered battery operated cart designed by one of its professors, Dr. R Seyezhai, from the department of Electrical and Electronics Engineering (EEE) and her PhD student Mr. A. Bharathi Sankar. The big innovation in the creation of this vehicle has been the development of advanced electric drive using brushless DC motor, an industry first. The use of this motor significantly boosts the cart's performance while also resulting in higher efficiency, reduced maintenance, reduced weight and reduced operating and manufacturing costs. The battery operated cart also has solar panels mounted on its roof to help it power its batteries. Alternate plug based power-point charging is also possible. The cart currently uses lead-acid batteries and when fully charged, and at full load capacity (230 kgs) is capable of going up to 70 kms on a single charge and reach a maximum speed of 40km/hr. Current battery operated carts employing DC drive in the market are not capable of reaching this speed.
The project began at SSN Institutions in the year 2013 and included a team of researchers led by Prof. Seyezhai. SSN has funded this project as part of its Funding for Innovative Projects Scheme (FIPS ), an innovative scheme by the institution to kick-start novel research by both students and faculty. Started in 2009, SSN has provided seed money worth Rs. 2.87 crores to 62 projects of faculty and a sum of Rs. 1 crore to around 230 student projects as part of this scheme, till date. SSN has also filed a patent for the controller for brushless DC motor . The 'controller' controls the running of the motor – it controls the speed and regulates the battery voltage.
Highlighting the development, Ms. Kala Vijaykumar, President, SSN Institutions said, "This project marries several important elements – innovation, mobility and environmental sustainability and also demonstrates our support to our faculty and student to develop market relevant innovations. Battery operated carts have emerged as a smart internal mobility solution across various enterprise habitats in India and the sector is expected to grow. By integrating solar and redesigning important components, our researchers have attempted to bring in a radical over-haul which we believe, going forward, will bode well for the industry."
Dr. R. Seyezhai, Associate Professor said, "We're very excited with this research and are grateful to SSN Institutions for supporting us to create the solar-powered battery operated cart. While we continue working on refining and improving the mechanicals and performance of the cart, we are also looking at taking this to the market. Typically, a new battery operated cart costs approximately Rs. 4.5 lakhs today; however, our solar-powered battery operated cart costs only Rs. 3 lakhs offering a host of additional and better features. An additional market opportunity is to also refurbish existing battery operated carts into solar power carts."
Additional developments planned
Currently, solar charging from the floating level takes approximately 7 hours. However, the development team plans to replace the lead-acid battery with a lithium-ion battery at a later date. This will not only speed up charging time but by bringing down battery weight, increase range and speed. A GPS mode will also be included in the electric vehicle thereby allowing on-line tracking of the vehicle as well as monitoring its route travelled, along with energy consumption, distance travelled, and reporting vehicle malfunction.
Future plans also include developing a driverless / autonomous solar electric cart. To implement this, the team is working on an Inertial Measurement Unit (IMU) for autonomous path-planning and driving. Also, a sophisticated controller will be designed – to help track the vehicle along with suitable algorithms for better energy management.
Conventional electric vehicle using DC drive Solar powered electric vehicle using brushless DC drive Speed – 25 km/hr. Speed – 40 km/hr. Full charge – 40 km Full charge – 70 km (battery + solar) Regular maintenance carbon brushes & commutator (every three months) Less maintenance (no brushes)- power electronic switches are employed Power transmission axial weight capacity 60 kg Power transmission axial weight capacity 30 kg (50% weight reduction) Motor with controller cost INR 1,10,000 Motor with controller cost INR 45,000 (55% cost reduction) Vehicle cost – INR 4.5 lakhs Vehicle cost – INR 3 lakhs
A growing market
Market research on the segment highlights that the electric cart market is currently valued at Rs 46 crores and is expected to expand to Rs 212.1 crore over 2024. While golf courses have traditionally been the largest consumers of battery operated carts, today such battery operated carts are used for mobility in universities, hospitals, hotels and resorts, IT and industrial campuses, airports, and railway stations among others. Other than the private sector, the government's plans to build or refurbish new airports and modernize railway stations over the next 10 years are also expected to boost demand for electric carts.
About SSN Institutions
SSN Institutions (SSN) is the first initiative of the Shiv Nadar Foundation in the field of education. Founded by Shiv Nadar, Founder Chairman – HCL, Shiv Nadar Foundation in 1996, SSN endeavors to provide world class research based education to meritorious students from all walks of life.
A not-for- profit institute managed by the SSN Trust (Sri Sivasubramaniya Nadar Educational and Charitable Trust), SSN includes SSN College of Engineering (SSN CE), SSN School of Management (SSN SoM), SSN School of Advanced Software Engineering (SSN SASE), SSN School of Advanced Career Education (SSN SACE) and SSN Research Centre (SSN RC).
Located on the Old Mahabalipuram Road known as the Cyber Corridor of Chennai, SSN is spread over a 250-acre Wifi-enabled campus with a built-up area of around 2 million sq ft; equipped with the state-of- the-art infrastructure for learning including computers and internet facilities networked by fiber optical links, modern workshops; labs, seminar halls, auditorium, libraries, gymnasium, a sports complex and residential accommodation for students and faculty. In a short span of two decades, SSN College of Engineering is already ranked as one of the top five private engineering colleges in India, 27th among all engineering institutions in India and 80th among all educational institutions in the country (India Rankings 2017, NIRF by MHRD).