Bangalore, October 3rd 2017:Kokuyo Camlin and Isha Foundation announced the school winners of the creative writing contest on the theme —` Saving Rivers: India's Lifeline' in the 26 city campaign – "Rally for Rivers" organized by teams of Kokuyo Camlin & Isha .The creative writing contest was part of the `Rally For Rivers' campaign, which was envisaged by Sadhguru, Founder of Isha Foundation to creating awareness among all Indians on the rapid depletion of rivers across India. The campaign started from Coimbatore and finally concluded in Delhi on 2nd October 2017 in a glittering event at Indra Gandhi Indoor Stadium. The events in all 26 cities have been attended by Sadhguru and dignitaries including Chief Ministers and other important guest. The Chief Guest for the Delhi event included The Vice President of India, Venkaiah Naidu, Dr Harsh Wardhan, Mr. Amitabh Kant – CEO NitiAayog, and many others. Kokuyo Camlin was represented by Saumitra Prasad – Chief Marketing Officer.
More than three lakh students from across 1500 schools in 26 cities of India participated in this mammoth activity. Last week the event in Lucknow was attended by UP Chief Minister Shri Yogi Aditynath.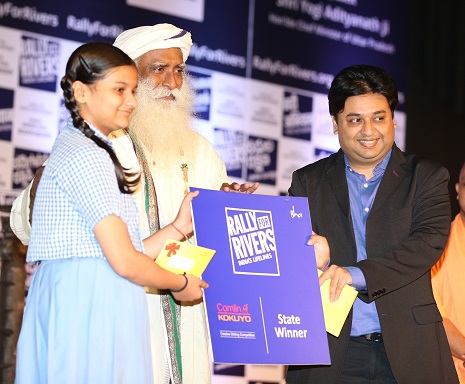 Saumitra Prasad, Chief Marketing Officer, Kokuyo Camlin Ltd said, "We are proud to be associated with Isha Foundation for this important initiative for the country – "Rally for Rivers" and overwhelmed by the level of participation we received from students for the creative writing contest across the country.  Some of the ideas suggested by these students were extremely thought-provoking and very insightful.  We conducted this activity to raise awareness about depletion of rivers among the students but the short essays submitted by them showcased their maturity, environmental consciousness and empathy they felt about conserving our great rivers… We are thankful to schools principals, teachers and students who made this awareness campaign a grand success."
The writing contest was eligible for students of the 5th, 6th and 7th class only.  The school children were asked to pen down a short essay on the topic of `Saving Rivers: India's Lifelines' in not more than 40 words in stipulated time of 15 minutes.  Every class had one winner, which was jointly decided by the teacher and the event organizers. Three entries from each school (one each for 5, 6, 7th standard) was short-listed by the school principal and a specially appointed jury. In every state – three winners were decided by a Jury and they attended the event with Sadhguru and other eminent personalities. Prizes worth Rs 3,000 were given to each state winner.
The state winners a religible for national online voting contest and 3 national winners will be selected based on online voting. Prizes worth Rs 25,000 will be given for each national winner.  All state winners are goingto get opportunity to attend a creative writing workshop at Isha Yoga Center with an eminent author.
About Kokuyo Camlin Ltd
 Kokuyo Camlin Limited www.kokuyocamlin.com (formerly known as Camlin Limited)  is in the business of  marketing and selling of art materials and stationery products under flagship brands 'Camel' and 'Camlin' which have been in existence for more than 80 years . The company offers a wide range of products such as Fine Art materials, scholastic colors and stationery, hobby products, office products, writing and drawing instruments, adhesives and notebooks.