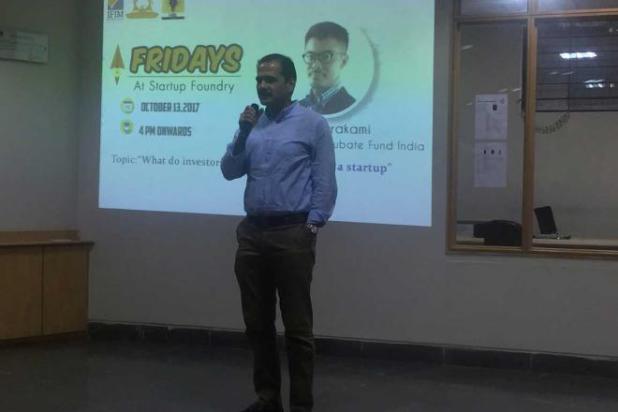 IFIM Institution's startup incubator aims at creating an ecosystem for budding entrepreneurs, enthusiasts and investors to explore ideas in the space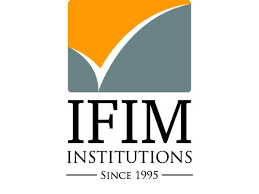 Bengaluru, October 14th, 2017: IFIM Institutions, inaugurated the first session of 'Friday's@Startup Foundry', today, at the college campus.  The event, which is scheduled to take place on the second Friday of every month is open to start-ups, enthusiasts, IT professionals and  students from various colleges with no fee. This bi-monthly event is hosted by IFIM's startup incubator cell with an aim to make Electronic City a hub of entrepreneurial activities.
The one hour evening session is a platform to listen and interact with entrepreneurs, investors, mentors and industry experts as they share their insights on the startup ecosystem in India.
The commencement session of 'Friday's@Startup Foundry', was conducted by Mr. Nao Murakami – Partner at Incubate Fund India (The Largest Seed Focused VC in Japan) who shed some light on the topic "What do Investors look at while funding a startup" . He said, " There are three important questions that every investor looks at before investing- first, is the idea strong enough to make the customers pay for it? Second, is the market big enough for the solution that the idea is offering and third and most importantly, how committed is the founder; unless he puts in his all, no investor will trust him."
Varun Akhnoor, Chief Incubation Officer, Startup Foundry, IFIM Business School said, "Business Schools are cultivators and motivators of entrepreneurship. It forms a base for budding ideators to find a firm ground and grow at a swift rate. There is an immense talent pool and networking with fellow ideators and potential mentors would only lead to an upward climb."
Attending the session was Mr. Sanjay Padode, Secretary, Center for Developmental Education (IFIM Institutions). Sharing his views on this initiative, he said, "As India reaches the doorstep of becoming one of the youngest countries of the world, entrepreneurship is a platform that will redefine the youth of this country. Bangalore is the pivot of startups in India and Electronic City, a major area of business. Hence, we plan to become the first incubator in Electronic City to give shape to fresh ideas."
Several areas in Bangalore like Koramangala, HSR and Indiranagar are startup hubs. IFIM envisions Electronic City too to be a part of this ever growing start up city.
About IFIM Institutions
IFIM Institutions has always been a front-runner for quality management education in India. IFIM's vision is to nurture holistic, socially responsible and continuously employable professionals.  IFIM Institutions was established in 1995 and promoted by Center for Developmental Education (CDE).  IFIM is equipped with state-of-the-art infrastructure and exceptional study resources. IFIM Institutions offer Undergraduate and Postgraduate courses through its IFIM Business School, IFIM College, IFIM Institute of Social Sciences, IFIM Law College and IFIM Centre for Distance Learning. The Group of institutions is highly supported by committed and qualified faculty with rich experience in industry, research and consulting. Furthermore, veterans and inspiring corporate professionals complement the courses through their guest lectures.