Chennai, November 1, 2017: To create awareness about stroke, an engaging mime act was performed at the behest of Fortis Malar Hospital on the eve of World Stroke Day today. Through this act, the artist tried to educate people about BE FAST approach to identify signs of stroke so that immediate medical attention can be provided. The BE FAST approach is an acronym for signs of a stroke like Balance loss, Eye sight changes, Face drooping, Arm weakness, Speech difficulty, Time to call stroke centre. The act was performed at a few important and busy traffic crossings like Adyar junction, Thiruvanmiyur, Madhya Kailash, CLRI and Tidel Park that created lot of interest among people.
A group of doctors from The Fortis Comprehensive Stroke Team at Fortis Malar Hospital were also present to conduct this awareness program as part of World Stroke day.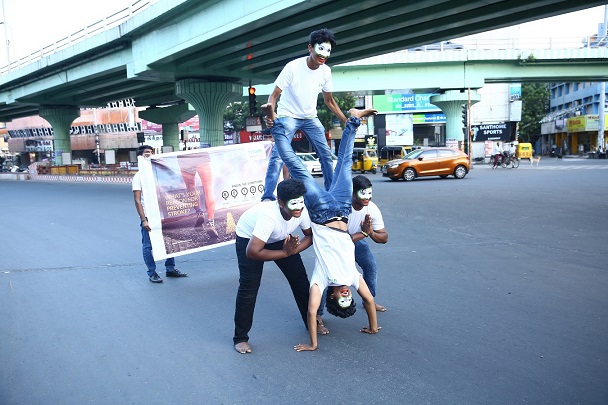 Commenting on the awareness programme, Dr. Dinesh Nayak, Senior Consultant Neurologist & Epileptologist, Fortis Malar Hospital, Chennai said, "A stroke is a medical emergency and there is now ability to intervene and restore blood supply to the brain. Time saved is brain saved, so it really does matter how fast you can identify it and react. It's very important that everyone is aware of BE FAST so that a person who has stroke can be recognized and treated immediately."
 Stroke is an attack on the brain caused by the interruption of the blood supply to any part of the brain. When blood flow is denied to the brain for longer than a few seconds and the brain is deprived of blood and oxygen, brain cells can die, and the abilities controlled by that area of the brain are lost. Common risk factors for stroke include high blood pressure, diabetes, heart disease, smoking, family history of heart disease and stroke. The onset of ischemic stroke which restricts blood and oxygen flow to the brain, can damage 1.9 million nerve cells every second. Head or neck trauma increases the chance of ischemic stroke three-fold among patients younger than 50. If the stroke is detected early, effective treatment could be given in time to prevent long term disabilities.
About Fortis Healthcare Limited: Fortis Healthcare Limited is a leading integrated healthcare delivery service provider in India. The healthcare verticals of the company primarily comprise hospitals, diagnostics and day care specialty facilities. Currently, the company operates its healthcare delivery services in India, Dubai, Mauritius and Sri Lanka with 45 healthcare facilities (including projects under development), approximately 10,000 potential beds and 368 diagnostic centres.
 About Fortis Malar Hospital: Fortis Malar Hospital was acquired by Fortis Healthcare (India) Limited in early 2008. The hospital founded in 1992, is established as one of the largest corporate hospitals in Chennai providing quality super specialty and multi-specialty healthcare services. Fortis Malar Hospitals, with 180 beds, focuses on providing comprehensive medical care in the areas of Cardiology and Cardiac Surgery, Neuro Surgery, Gynaecology, Orthopaedics, Gastroenterology, Neurology, Paediatrics, Diabetics, Nephrology and Internal Medicine. Fortis Malar Hospital has a state of the art Cath Lab and multiple dedicated cardiac operation theatres and intensive coronary care units. Several rare and complex Adult and Paediatric Cardiac surgeries, Orthopedic and Joint replacements, Neurosurgeries and Plastic reconstruction surgeries have been performed at this hospital. The hospital's Obstetrics and Gynaecology services are among the busiest in the city, successfully performing many complicated deliveries and surgeries. They are supported by a dedicated Neonatology unit.