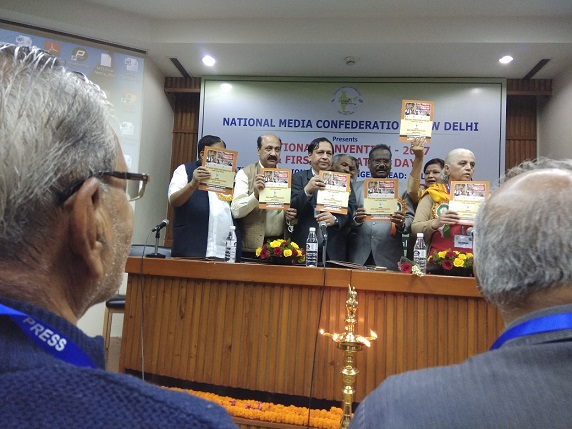 National Media Confederation ( NMC ) 1st Foundation Day Annual General Meeting on behalf of National Press Day and Souvenir release held On 16th November 2017, 9 am to 5 pm at India International Center, 40, Lodhi Estate, New  Delhi.
In the presence of  Chief Guests Hon.ble Mr. Shyamji Jaju Vice President and Delhi In charge of BJP,  Hon. ble Mr. Dilipji Gandhi, Ex. Minister and M.P., Hon.ble Dr. Pradip Balmuchu, M.P. Rajyasabha Sadasya.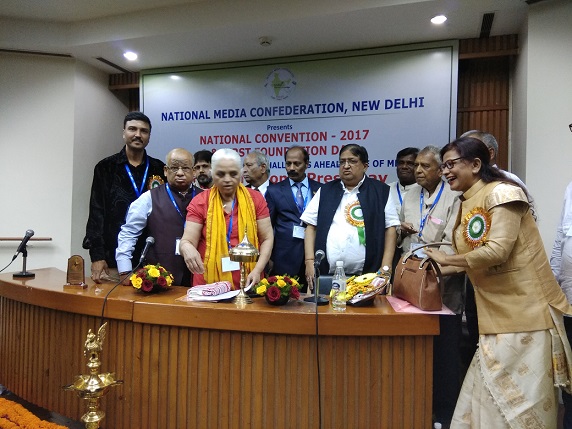 Ms. Pushpa Pandeya Founder presides 1st Foundation Day Annual General Body Meeting. Chief Guests released the souvenir. Excellently souvenir made by souvenir committee are Mr. Pawankumar Bhoot, Chairman and Cheif Editor, Mr. Suresh Kadam, Associate Editor, Ms. Runu Hazarika, Joint Editor, Mr. Narayanpurkar YK, Photo Editor, Ms. Pushpa Pandeya, K.K.Tiwari, Mr. Surendra Verma, Advisory Board. Mr.MATHIOLI RAJAA given a article from Tamilnadu and Pondicherry.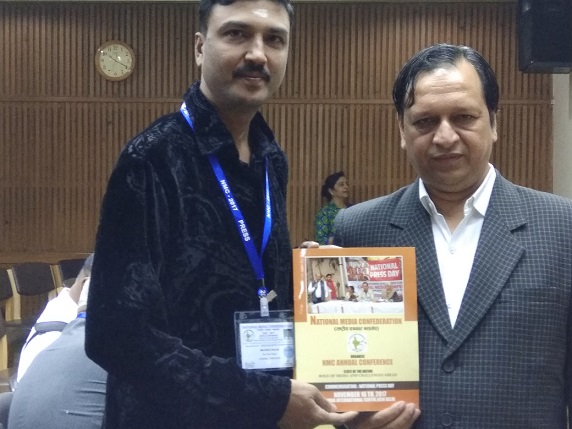 New National Office bearers elected by unanimously in annual general body meeting.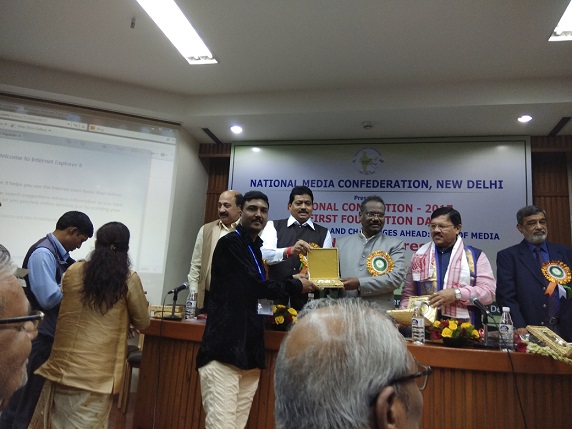 NMC National Office Bearers:-
Ms. Runu Hazarika elected as a President, Mr. K.K. Tiwari elected as a Chief Patron, Mr. Suresh Kadam elected as a Chairman, Mr. Narayanpurkar YK elected as a Treasurer, Mr. Sudhir Mehta elected as a Secretary General, Mr. Surender Verma elected as a Dy. President, Mr. Trushar Patel elected as a Dy. Secretary, Dr. Vandana Guliya Elected as a Co- ordinator.
Mr.MATHIOLI RAJAA President of NMC Tamilnadu and Pondycherry participated in this meeting and also from Tamilnadu, Delhi, West Bengal, Karnataka, Telangana, Assam, Punjab, Maharashtra, Bihar, Haryana, Chandigarh, Odisha, Jharkhand, Rajasthan, Gujarat, Utthar Pradesh, Andhra Pradesh, Uttarkhand states were given their valuable presence and made the function graceful.
NMC 1st Foundation Day AGM, Souvenir release & National General Body for 2017-2019 elected happened in a excellent manner with huge success.