Toshiyuki Kasai – CEO and President of Epson India along with Mandar Tamhane – Chief Technical Officer of Bengaluru FC, at the official announcement. 

Bangalore, November 28th, 2017: Epson, a world leader in digital imaging and printing solutions, today announced a sponsorship deal with Bengaluru FC (BFC) to become the football clubs Official Printing and Imaging Partner. Bengaluru FC is one of India's most succesful football clubs and is participating in the Indian Super league (ISL) 2017-18 for the first time. This will be Epson's first association with a football club in India.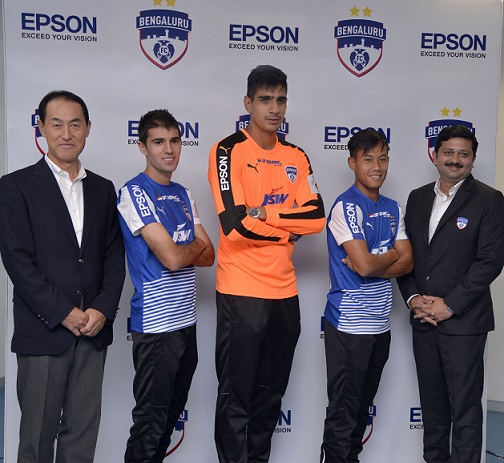 The agreement, which starts immediately, sees Epson, one of the leading manufacturers of printers, projectors and robots worldwide, have a brand presence on the Bengaluru FC (BFC) jersey sleeve. Epson will also supply Bengaluru FC with its printers and projectors to be used at the club and training facilities. The deal will see Epson align its brand with India's top football club to raise its profile with a young audience which follows football in India.
 Leading the way through constant creativity and innovation both brands share a commitment to achieving the highest standards. The partnership with Bengaluru FC (BFC) aligns Epson with an exciting and recognised football brand in India and is expected to bring the brand closer to a young and growing sports loving audience in India. Epson says its vision to excite and inspire customers is represented by Bengaluru FC's success on the pitch and the unique printer and projector technologies for which Epson is renowned. This partnership is expected to help Epson engage more with its customers in key markets and enhance its brand awareness.
 Speaking on the association, Toshiyuki Kasai, President, Epson India, says "India is fast becoming a nation of football enthusiasts and we are excited to announce our association with Bengaluru FC. As a local team, BFC has won the hearts of many Bangaloreans as well as that of others across the country. We believe that BFC and Epson share a common commitment to continuous improvements in performance and innovation. Through this partnership, we aim to be an indispensable part of the community and to the lives of customers and fans. We look forward to being a part of their journey to greatness and wish the BFC team best of luck for their upcoming matches."
Mandar Tamhane, Chief Technical Officer of Bengaluru FC (BFC), added "We are obviously delighted to have Epson as one of our commercial partners with immediate effect and are looking forward to developing an exciting communications programme that helps us both achieve our business goals. Epson is an amazing and highly respected global brand, which perfectly complements our ideals and aspirations."
About Epson India
Epson India Pvt. Ltd. was incorporated in the year 2000. Epson products address the needs of homes, businesses and commercial enterprises as also those of consumers with specialized needs in India. With a commitment to providing products and services that surpass people's expectations, Epson India today has an enviable reputation for quality and value. Headquartered in Bangalore, the company markets and supports Epson Inkjet Printers, Inkjet All-in-Ones, Point of Sale Printers, 3LCD Projectors, Scanners, Large Format Printers, Robots and Dot-Matrix Printers. In all of these categories, Epson is either the No. 1 or No. 2 brand in India, and growing fast.
About Bengaluru FC (BFC
Owned by the JSW Group and founded in 2013, Bengaluru Football Club (BFC) has gone on to become one of the most successful clubs in a short span of time. The Blues, as BFC is affectionately called, are two time winners of the I-League and the Federation Cup and are also the only club from India to make the final of an AFC competition when they made it to the summit clash of the 2016 AFC Cup final that was played in Doha, Qatar. BFC have, this season, switched over to the Indian Super League and are looking to make it five titles in as many years of its existence.