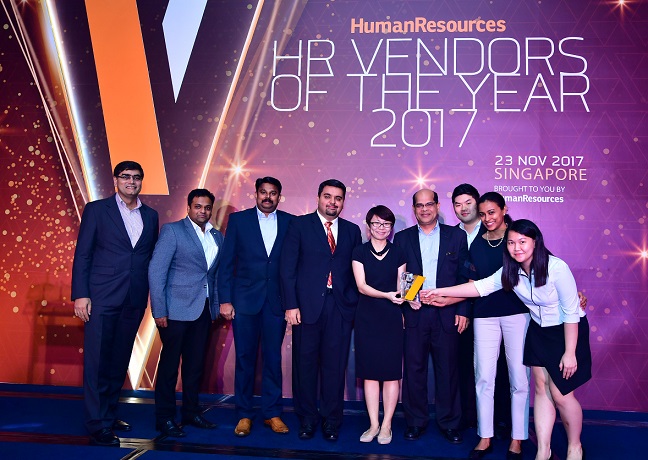 For Best Payroll Software, Best HR Management System and Best Talent Management Software in Singapore, Malaysia and Hong Kong
Chennai, India /  Singapore – November 30, 2017 – For the third consecutive year, leading Global HCM and Payroll software provider, Ramco Systems clinched awards for its Human Capital Management (HCM), Global Payroll and Talent Management software at the 2017 HR Vendors of the Year Awards held in Singapore, Malaysia and Hong Kong. Ramco beat global vendors to win three Gold, three Silver and a bronze award.
Organised by Human Resources magazine and judged by industry leaders, the HR Vendors of the Year Awards are one of Asia's largest events dedicated to HR solution providers.
The awards capped off a highly successful year for Ramco with its HCM software winning several recognitions in the last 12 months, including: Best Talent Management Solution at the 2017 Frost & Sullivan Excellence Awards; 'Highly Recommended Payroll Software Supplier of the Year' from Global Payroll Association; as well as placements in Forrester Wave for SaaS HRMS and Gartner Magic Quadrant for Cloud HCM Suite.
Acknowledging the award, Virender Aggarwal, CEO, Ramco Systems, said, "We are honored to have won the highly coveted HR awards for the third year in a row. I dedicate this win to all our customers, partners and associates who dared to challenge the status quo and placed their utmost trust on us. This win underscores our leadership in the complex APAC market, the strength of our ever-growing client portfolio and the focus we place on Innovation to deliver business excellence."
Team Ramco receiving the HR Vendors of the Year 2017 Awards in Singapore
"While Singapore is home to our innovation lab, Malaysia has the second largest operations, outside India. With legal entities in and presence across Australia, New Zealand, Hong Kong, China, Philippines, Malaysia, Singapore, Indonesia, and Vietnam, we are strongly positioned to grow in the region. Testimony to this success is the recent wins from Global BFSI major for consolidating multi-country Payroll for 14 countries; winning the trust of a Global top 5 Logistics major for unifying HR operations across 13 countries, and addition of Europe's premium brewery brand to our growing clientele" he added.
Complete with chatbots and simplified User Experience, organizations can deploy Ramco HCM on-cloud, on premise or leverage as a managed service. The multi-tenant architecture with embedded intelligence and device agnostics features now serves more than 450 customers worldwide. With innovative concepts of Haptic Design, Context-sensitive Pop-ups, Facial Recognition based Attendance and Chatbots to carry out self-service, Ramco has been setting the benchmark for Innovation in this segment. With statutory compliance across 40+ countries covering ANZ, Asia (including Japan & China), Middle-East & Africa, UK and Ireland, Ramco's Global Payroll is available in English, Japanese, Mandarin, Bahasa, Thai, Malay, Arabic among others.
About Ramco Systems:
Ramco is a fast-growing enterprise software player disrupting the market with its multi-tenant cloud and mobile-based enterprise software in HCM and Global Payroll, ERP and M&E MRO for Aviation. Part of the USD 1 billion Ramco Group, Ramco Systems focuses on Innovation and Culture to differentiate itself in the marketplace. On Innovation front, Ramco has been focusing on moving towards Cognitive and Robotic ERP with features such as Bot it – which allows users to complete transaction using natural conversations; Mail It – transact with the application by just sending an email; HUB It – a one screen does it all concept built to address all activities of a user; Thumb It – mobility where the system presents users with option to choose rather than type values and Prompt It – a cognitive ability which will let the system complete the transaction and prompts the user for approval.
With 1600+ employees spread across 24 offices, globally, Ramco follows a flat and open culture where employees are encouraged to share knowledge and grow. No Hierarchies, Cabin-less Offices, Respect work and not titles, among others are what makes the team say, Thank God it's Monday!
Only APAC vendor to be positioned in Gartner Magic Quadrant for Cloud Financials & Cloud HCM Suites;
Enters as a Contender in The Forrester Wave™: SaaS Human Resource Management Systems, Q3 2017; Recognized as a 'Highly Recommended' Payroll Software Supplier of the Year 2017 by Global Payroll Association; Positioned as 'Achiever' in Everest Group's Multi-Country Payroll Platform Assessment
For more information, please visit http://www.ramco.com/hcm
Follow Ramco on Twitter @ramcosystems / @ramcohcm read latest updates on http://blogs.ramco.com