The celebrations began with the choir from Indian Youth Villages Fellowship Children's Home who serenaded the crowd with their soulful carols.
Chennai: Marking the beginning of festive season Le Royal Meridien hosted the traditional tree lighting ceremony on Saturday, 16th December 2017. The Christmas tree lighting ceremony was promptly held at the Lobby with the melodious sounds of children's choir group. Actor Rishi Raj and Dr IG Periaswamy inaugurated the lighting ceremony.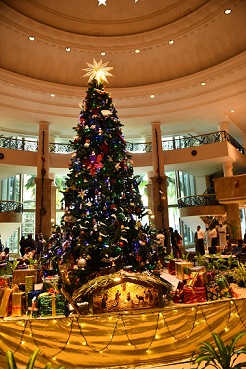 Santa Claus made an exciting entry to the event, with a bag full of goodies, while all the children from Indian Youth Villages Fellowship children's home chorused Christmas carols in delight. The giant Christmas tree was then lit up in the presence of all the guests who came together to share in this beautiful celebration with Le Royal Meridien.
"Le Royal Meridien's  magnificent Christmas Tree attracted everyone's attention this year.  We kept the design of the tree traditional and elegant with a decoration theme of gold and red. Hundreds of joyful ornaments, such as candies, gift boxes, tinsel pieces, gold ribbons, light bulbs, balls and violins were used to create a stunning Christmas tree displaying childhood memories.  The tree was topped with a shining star, taking it to a glorious height with a truly spectacular visual impact", said Sumit Kant, General Manager, Le Royal Meridien.