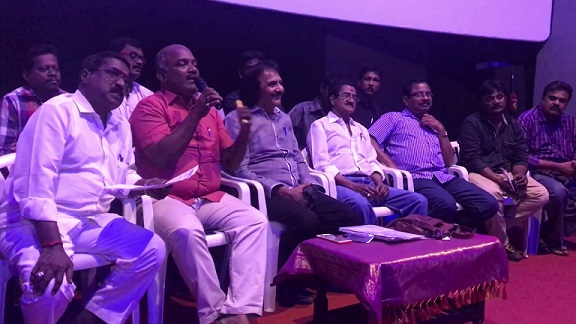 Actor, Director & Producer " Puratchi Thalaivar " M.G.R. introduced Film News Anandan in his film " Nadodi Mannan " in 1958 and introduced Public Relation profession in Tamil Film Industry 60 Years Celebration.
In 1993 South Indian Cinema Public Relation Officers Union ( Theninthia Thiraipada Pathirikai Thodarpalar Union ) were registered and actively progress from past 25 years celebration.
Actor, Director & Producer " Puratchi Thalaivar " M.G.R ( M.G.Ramachandran ) 100th Year Birthday Celebration.
Venue: Kalaivaanar Arangam, Chepauk, Chennai.
Date: 03 – 01 – 2018
Time: 5 pm.
This function starts with Kalaivaanar N.S.Krishnan's grand daughter Ms. Ramya's  Tamil Thai Vazhthu song.
M.G.R.'s very affection pet Music Director Sankar Ganesh's  M.G.R.'s film songs light music.
Cinema Dance Master Kala's Team Dance Program.
Tamil Film Producers Council, South Indian Film Artiste Association, South Indian Film Chamber of Commerce,  Producers Guild, Digital Producers Association, Tamil Film Chamber of Commerce, Tamilnadu Film Directors Association, FEFSI,  Tamilnadu Theater Owners Association, Tamilnadu Film Distributors Association and All Office Bearers from all Cinema Crafts also  participating in this function.
All Top Most Film Actors and Actresses will be participating.
This function Anchoring by Abdul Hameed and Archana V.P.Mani.
This function organized by Cinema PRO Union Office Bearers, Executive Committee Members and General Body Members together.