Sunday, 7th Jan 2018 | 05:00 AM to 08:00 PM IST
Besant Nagar Beach,Elliot's Beach, Besant Nagar, Tiruvalluvar Nagar, Chennai, Tamil Nadu, India
About The Event
INDIA EVENTZ & SPORTS & PARIVU CHARITABLE TRUST ORGANIZING MARATHON ON 'SAVE FARMING'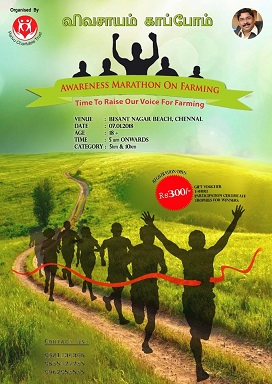 LIFE & DIFFICULTY BEHIND FARMING
Farming is most important since the beginning of our civilization. We all depend upon agriculture for food. Because of their existence we are leading a healthy life. But! Are they leading a good life?
being in Farming leads a worried life as they work hard under the hot sun and heavy rains. But still they provide food for the entire world.
Farming depends upon nature to bring out the flawless harvest in cultivation. Inadequate rainfall and scarcity of water may result in drought situation. However, they deliver us everything by overcoming natures disaster.
Farmer earns by selling crops. So his financial factor of life is at risk when the crops fail to be sold or increase in production at all places as the price goes down. Lets hope that the several Government schemes resolve the farmers.
SAVE FARMING PARTICIPATING IN THIS MARATHON.
MAKE YOUR RUN TO SUPPORT FARMING.
Age: 18+.
CATEGORY: 5km & 10km.
Registration Fee: Rs.500/-(per person) along with T-Shirt,Medal, Certificate for all participants. Trophies will be awarded to the winners.
Save Social Foundation on behalf of the sympathetic entitled Agriculture coming Sunday (Jan. 7) takes place in Chennai marathon running.   The future   Generations   Agriculture  About   Awareness   Get   Should   The   In order to   Agriculture accounted   Save   The   Marathon run   It has to happen. Pheasant   City   At the beach   At 5 am   Starts   The  Flow, 5 km. And 10 km. The   Both   Segments   Meeting.
'Compassion   Community   Health    Foundation 'for has done.
about this   Sympathy   Community   Health   Foundation   Founder   Dr. SHAKTHIVEL
"In the past 2009-   Sympathy   Community   Health   Foundation   Launched. Its   In 2012 on behalf of 'compassion' that   Monthly   Magazine   Started. It   Growing up in 2014-  Fortnightly   For Magazine   Variable   Unfolding   Contains.
'Compassion' for many   Youth   Encouraged   In terms of   Their   Works   Issued.
Today   Urbanization, globalization   The   In the name   Agriculture   Extinct   Comes.
Agricultural   Land   Decreasing   Keeps   Being.
With agriculture   Industry   The technique   Arrive   When   Agriculture   Developing.
In this way,   Israel   Country   Record   Understanding   Comes.
In Agronomy   Science   Joining   Many   Revolutionary    changes   Occurring. Future   Younger   Generations
Such    Awareness   Cause   In order to   Just   The   Agriculture   Save   The   Marathon    Will take place. The   Streamline   Stock   For Families   T   Shirt, manual, Paricipation Certificate  all  will provided   .
For more information 9655122255/9962955555