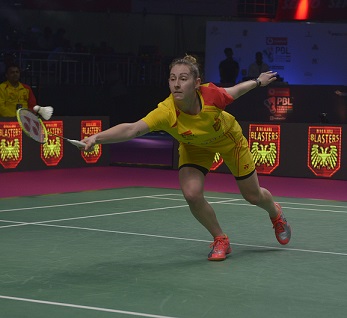 Chennai, January 5: Ajay Jayaram came up with a dominant performance against Bengaluru Blasters' Chong Wei Feng to bring North Eastern Warriors back into the tie and a chance to stay in hunt for the semifinals of the Vodafone Premier Badminton League, here at the Jawaharlal Nehru Indoor Stadium on Friday evening in Chennai.
The tie is of huge importance to the North-Eastern Warriors as a win today will keep them in the contention for aa spot in the semis but a loss will see them virtually drop out of the race. Warriors are currently languishing in seventh place with seven points.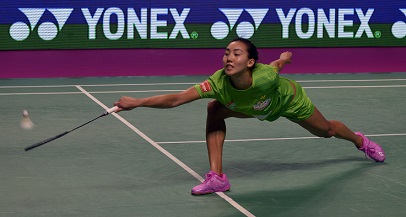 Chong Wei Feng, who came into the match at the back of a win against World No. 15 Vincent, was entrusted with playing the Blasters' trump match against Ajay Jayaram.
However, he could not continue his winning momentum as he lost out to the Indian in straight games 15-8, 15-13 to the Indian.
Chong Wei couldn't cope with Jayaram's impressive defense and impeccable net play and committed a series of unforced errors of his forehand to give away the first game 15-8, in a fairly easy manner.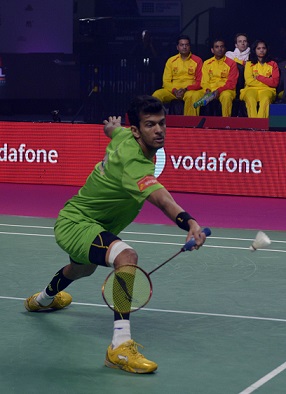 Nonetheless, in the second game, Chong Wei fought back and the game progressed neck to neck. Even though Jayaram led 8-6 at the break, the Malaysian brought it back to 13-13. However, the Indian displayed composure to steer his side to  1-0 lead ahead on points. Blasters who registered one point early on in the tie saw that getting nullified as they lost their trump match which saw them getting penalised with a point.
 In the first encounter of the five-match duel, North-Eastern Warriors' Kim Gi Jung/ Shin Baek Chol were put on the backfoot as they lost the first game 12-15 to the Blasters' pair of Mathias Boe/ Kim Sa Rang. However, the Warriors' pair snapped back to level the clash with a comprehensive 15-7 victory.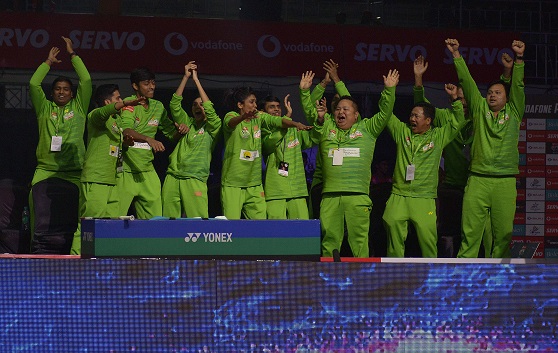 But the Blasters' pair displayed resiliency to take the match away from the Warriors with a close fought 15-12 win and got Blasters off the mark.
RESULTS
MD: Mathias Boe/ Kim Sa Rang bt Kim Gi Jung/ Shin Baek Chol – 15-12, 7-15, 15-12
MS: Chong Wei Feng (Trump) lost to Ajay Jayaram – 8-15, 13-15