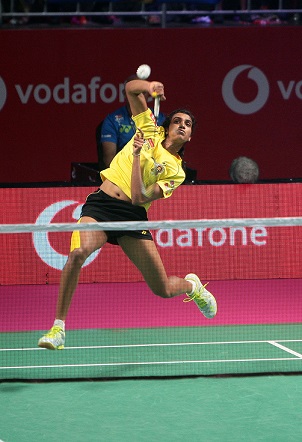 Chennai, January 6 – World No.3 PV Sindhu of India registered a stunning  victory over World No.1 Tai Tzu Ying of Chinese Taipei to help defending champions Chennai Smashers draw level against Ahmedabad Smash Masters in the Vodafone Premier Badminton League here today at the Jawaharlal Nehru Indoor Stadium on Saturday.
It was a huge win for Chennai as they were 0-1 down in the tie and Sindhu loss would have put them in a very precarious position but Sindhu did not disappoint as she beat Tai Tzu 15-11, 10-15, 15-12 to keep the Smashers alive in this do-or-die contest. This was Tai Tzu's first loss of the Vodafone PBL season.
Chennai who came into the tie last on the standings with seven points to their tally need a need as a loss here will end their hopes of qualifying for the knock-out stages.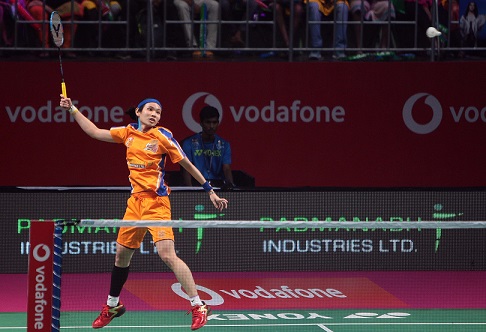 The Taiwanese shuttler who came at the back of a stunning win over Saina Nehwal started from where she left and she was literally unplayable and deceived the Indian with her clever drops. She raced to an 8-5 lead and it looked like she would close the game without much of a competition from Sindhu. However, after the break Sindhu, heavily strapped on right thigh was a much different player and switched gears to eventually seize the momentum and go up in the match.
In the second game, Sindhu cashed in on Tai Tzu's initial mistakes and blitz to an early lead. But Tai Tzu came back strong to lead 8-6 at the break. After the breather, even though Sindhu started the proceeding winning two consecutive points, it was the World No.1 player who maintained her composure to finish the game to take the match into the decider.
In the third game, Sindhu took the charge early and aided by her opponent's unforced errors went into the breather 8-6. After the change of ends, Tai Tzu known for her ability to bounce back from the dead did that to keep herself in the contest and gave Sindhu no place to breathe. But Sindhu remained cool as an ice and with scores tied 12-12; she won three straight points to send the packed stadium into a euphoric mood.
"It was a great win and I feel I did extremely well to beat Tai Tzu. She played very well and I am really happy to have won the match. The crowd was extremely motivating and their support helped me a lot in getting this win," Sindhu said after the match.
In the first match of the day, men's doubles pair of Lee Chun Hei Reginald/Kidambi Nandagopal beat the pair of Chris Adcock/Lee Yang 15-13,15-12 to steer Ahmedabad Smash Masters register first point of the day.
In the opening game, it was a close contest with both the teams looking in great shape. Even though it was a tight contest the Smash Masters went on to win the game to seize the early initiative into the match.
However, the Chennai pair bounced back and looked to be a better pair on the court in the opening game. They went into the interval leading 8-5. They way Adcock/Lee were playing it looked like they would go onto draw level but the Ahmedabad pair had different plans as they changed gears after the break to race their way to victory help Ahmedabad Smash Masters open their account in the lead.
 Results – (Ongoing)
MD – Lee Chun Hei Reginald/ Kidambi Nandagopal bt Chris Adcock/Lee Yang 15-13,15-12
WS- PV Sindhu vs Tai Tzu Ying – 15-11, 10-15, 15-12
MS- Brice Leverdez [T] bt H.Sourabh Verma
MS – Tanongsak Saemsomboonsuk vs H.S Prannoy
XD – PV Sindhu/B.Sumeeth Reddy vs Lee Chun Hei Reginald/Kamilla Rytter Juhl
The Vodafone Premier Badminton League is held under the aegis of the Badminton Association of India and is organised by Sportzlive, the official licensee partner of the league.
It has already acquired the tag of being one of the richest badminton leagues with the teams battling for a total prize money of INR 6 crore.
KEY HIGHLIGHTS OF THE LEAGUE
·         8 current World Championship medalists
·         9 Olympic Medalists (including three multiple medal winners)
·         World No. 1 in both Men's singles and Women's singles
·         Prize Money: INR 6 Cr
·         Duration of tournament: 23 days
·         High footfall and stadium attendance Last year gate revenue was close to  1.4 cr.
 About Vodafone Premier Badminton League Season 3
The Vodafone Premier Badminton League Season 3, is the world's richest prize money badminton tournament offering a prize of INR 6 Cr. The league is conducted bySportzLive, licensee partners of PBL and is organised under the aegis of Badminton Association of India (BAI), led by President Dr.Himanta Biswa Sarma. The league kick starts from December 23nd 2017-January 14th 2018 and will see 8 teams; Delhi Dashers, Mumbai Rockets, Hyderabad Hunters, Awadhe Warriors, Chennai Smashers, Bengaluru Blasters, Ahmedabad Smash Masters and North Eastern Warriors battle out in across 5 different locations of India including Guwahati, Delhi, Lucknow, Chennai and Hyderabad. Matches will be telecasted live on Star Sports Network and online streaming will be done on Hotstar.com.
About Sportzlive
Sportzlive is a Gurgaon based sports management and marketing company set up by highly experienced industry veterans! It's a venture capital funded company that acquires sports IPRs. It already has an impressive portfolio that includes the, Premier Badminton League, Indian Cue League (Snooker + Pool) and Men's, Women's and Beach Volleyball properties. Sportzlive currently has acquired rights for four different leagues and about 90 days of Live action content. Sportzlive, as part of its overall vision for development of the sports ecosystem in the country, has set up North India's largest Badminton Academy at Greater Noida in association with Pullela Gopichand.
Official Website – www.pbl-india.com
Follow PBL on Social Media 
Facebook – @PBLIndiaLive
Twitter – @PBLIndiaLive