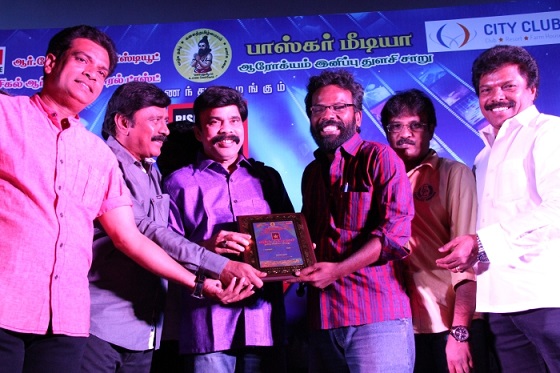 I want to be a M.L.A., Director Perarasu delivered his wish in Rising Star Award Function
I want to make Yejaman Part 2, Director R.V.Udhayakumar delivered his wish in Rising Star Award Function
Artists seeking for recognition. They are provided for the recognition of such awards. Accordingly 2017 Rising Star of the Year Awards ceremony held recently in Chennai R.K.V.Studio. Bhaskar Media,  R.K.V.Film Institute Arts & Cultural Trust and healthy sweet basil juice of Indian classical jointly conducted specially for this festival.
Director Vikraman, President of the Tamil Nadu Film Directors Association participated in the ceremony held in the presence of 2017th Rising Star of the Year awards at the highlighting a Directors R.V.Udhayakumar &  Perarasu. In addition, the special guest of the ceremony, Mrs. Ko.Gomathi IRS presented awards for their achievement.
Best debut Nandan (Pallipparuvattile), Best Debut Actress Aditi Balan (aruvi), Best Villain Daniel Balaji (Ippadai Vellum), Best Director Arunprabhu Purushothaman (Aruvi), Best Writer Gopi Nayanaar (Aram), Best Debut Director Gypsy Rajkumar (Ayyanaar Veedhi) Best Music Composer Sham (Vikram Vedha) and the Indian Cultural Academy Teacher & Founder Mary Mac Mohan Paul, Best Debut Hero  Laby Paul  in several categories, including awards were given to caste.