Chennai, Jan 8th 2018: Meet artist Razia Kunj at the launch of her limited edition line of hand painted jewelry at Amortela!
In her visit to Chennai, Razia brings with her a line of bespoke jewelry that is an artistic endeavour to shrink the canvas where art intersects with fashion. Her statement jewelry is an answer to questions like 'why should art only be hung up in galleries?' and 'why must street art only be on the roads?' The jewelry exemplifies the designer's visual ethos on giving the art of India a whole new destination – on the person of a woman.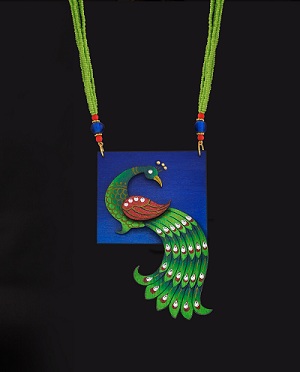 Razia's intention is to take art from the walls of galleries and temples, from the pages of Indian folklore, from dance forms and tribal art and from forgotten nook and crannies of rural India. Krishna can be playing a Basuri right under your ears, as an earring, while the doors of a Haveli open to the world in the form of a necklace.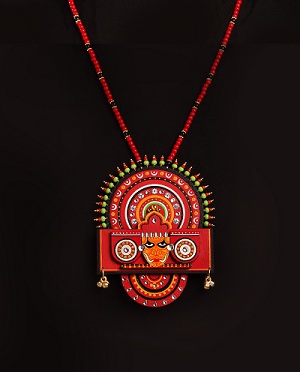 Each collection is inspired by diverse themes from 'Theyyam', a line that captures the intensity of the ritualistic art form of North Kerala; 'Jharoka', inspired from Portal art where doors and windows are canvases for creativity and 'Temple' that showcases the relationship between Gods and temples.
Each piece is hand painted, crafted on layered wood and embellished with gold finish brass and silver foiled crystals. Strung together by glass beads by the traditional community of Patwas, every piece in Razia Kunj's collection is a heady celebration of art.
Starting at INR 1500/- onwards
Meet the Artist on Friday, Jan 19th, 4 pm – 9 pm at Amortela, 25/12, JJ Road, Off Kasturi Rangan Road, Poes Garden | RSVP 89394-09501