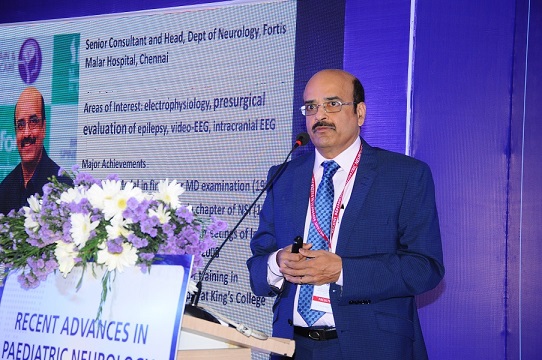 Highlight of the conference was the Session on Autoimmune Encephalitis

Chennai,  January 30, 2018 : Fortis Comprehensive Epilepsy Centre (FCEC) at Fortis Malar Hospital in association with Indian Academy of Paediatrics – Chennai City Branch, organized "Recent Advances in Paediatric Neurology" conference at Hotel Raintree, Chennai today. The purpose of the conference was to provide a comprehensive review of all the treatable disorders with an aim to improve patients' outcomes. More than 330 doctors from different specialties like paediatrics, neurology and paediatrics neurology from Tamil Nadu attended the conference.
Dr Suvasini Sharma from Lady Harding Medical College and Kalawati Saran Children's Hospital, New Delhi, Dr Rachna Sehgal from Safdarjung Hospital, New Delhi, Dr Naveen Sankhyanfrom PGIMER, Chandigarh and Dr Mahesh Kamate from KLE University, Belgaum were the guest faculties in the conference. Dr Satish Kumar, Consultant Neurologist and stroke specialist at Fortis Malar Hospitaland Prof G. Kumaresan, senior consultant paediatric neurologist from Kanchi Kamakodi Child Trust Hospital, Chennai and Dr. Karthik, Associate professor, Department of Neurological sciences, Christian Medical College, Vellore were the other faculty at the conference.
The highlight of the conference was the sessions on autoimmune encephalitis and on newer molecular genetic diagnosis for various childhood neurological diseases. The delegates actively participated and discussed various recent treatment guidelines for the emerging childhood neurological conditions like autoimmune encephalitis.
Dr. Dinesh Nayak, senior consultant neurologist and epileptologist, Fortis Malar hospital spoke on the scope of epilepsy surgery and presented many complex surgical cases from the Fortis Comprehensive Epilepsy Centre, Chennai. He said, "Epilepsy surgery is the treatment of choice for those epilepsy patients who have surgically amenable lesions".
Dr. Lakshminarayanan, consultant paediatric neurologist, Fortis Malar hospital presented a case series of 12 children with rare difficult to treat autoimmune encephalitis that were treated and completely cured of the disease, in the last two years. Dr. Lakshminarayanan, who spoke on Epilepsy Pearls said, "Over 80% of children with epilepsy could be cured with available medications alone and further emphasized that patient specific antiepileptic medication choice can go a long way in curing patients' epilepsy."
Dr Sheetal Sharda, Consultant Clinical Geneticist, MedGenome who spoke on recent advances in genetic diagnosis said "The correct diagnosis, with help of genetic testing, can benefit many patients as far as understanding the prognosis, management or prenatal diagnosis is concerned."
About Fortis Healthcare Limited:Fortis Healthcare Limited is a leading integrated healthcare delivery service provider in India. The healthcare verticals of the company primarily comprise hospitals, diagnostics and day care specialty facilities. Currently, the company operates its healthcare delivery services in India, Dubai, Mauritius and Sri Lanka with 45 healthcare facilities (including projects under development), approximately 10,000 potential beds and over 372 diagnostic centres.
About Fortis Malar Hospital :  Fortis Malar Hospital was acquired by Fortis Healthcare (India) Limited in early 2008. The hospital founded in 1992, is established as one of the largest corporate hospitals in Chennai providing quality super specialty and multi-specialty healthcare services. Fortis Malar Hospitals, with 180 beds, focuses on providing comprehensive medical care in the areas of Cardiology and Cardiac Surgery, Neuro Surgery, Gynaecology, Orthopaedics, Gastroenterology, Neurology, Paediatrics, Diabetics, Nephrology and Internal Medicine. Fortis Malar Hospital has a state of the art Cath Lab and multiple dedicated cardiac operation theatres and intensive coronary care units. Several rare and complex Adult and Paediatric Cardiac surgeries, Orthopaedic and Joint replacements, Neurosurgeries and Plastic reconstruction surgeries have been performed at this hospital. The hospital's Obstetrics and Gynaecology services are among the busiest in the city, successfully performing many complicated deliveries and surgeries. They are supported by a dedicated Neonatology unit.