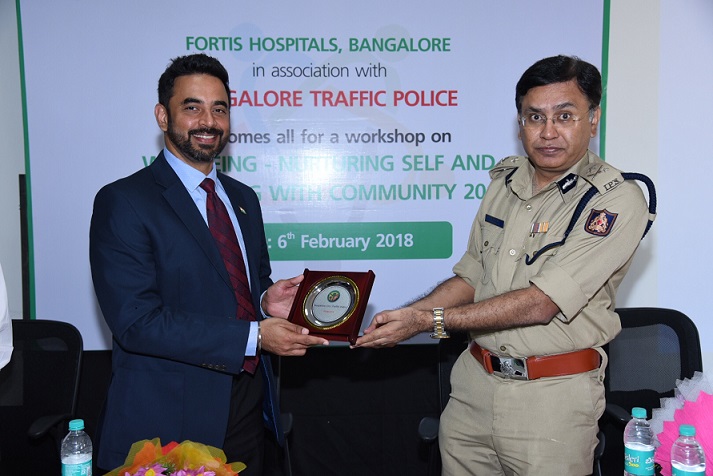 – Experts advise on how to enhance well being in a highly stressed job environment

–   Need for community recognition important key for better performance said, Dr Samir Parikh,
Bengaluru, February 6, 2018: In a bid to help the guardians of Bengaluru streets to improve their well-being, experts at Fortis Hospitals shared tips and advice with 150 traffic police personnel of Bengaluru Traffic Police held at the Office of the Principal and Assistant Commissioner in Bangalore today. The session was designed to help highly stressed police personnel to enhance their happiness in performing their daily job. A booklet and a poster was unveiled by Mr R Hitendra, Additional Commissioner of Police (Traffic), Bengaluru; Mr Raj Gore, Chief Operating Officer (South & West), Fortis Healthcare at the event. The team of experts at the session was led by Dr Samir Parikh, Director, Mental Health & Behavioural Sciences, Fortis Healthcare.   
The 'Tool Kit for Self-Care' is an expert guide that entails tips to right lifestyle and develops healthy social rhythm for enhancement of one's well-being. The need to develop friendship at work as well as better sleep hygiene was stressed in this regard. The need for alternate stressors and establishing clear boundaries between work and home goes a long way to help one unplug from the high-stress level, the booklet espoused. It is also important for one to do what he wants to do as it helps immensely in managing stress.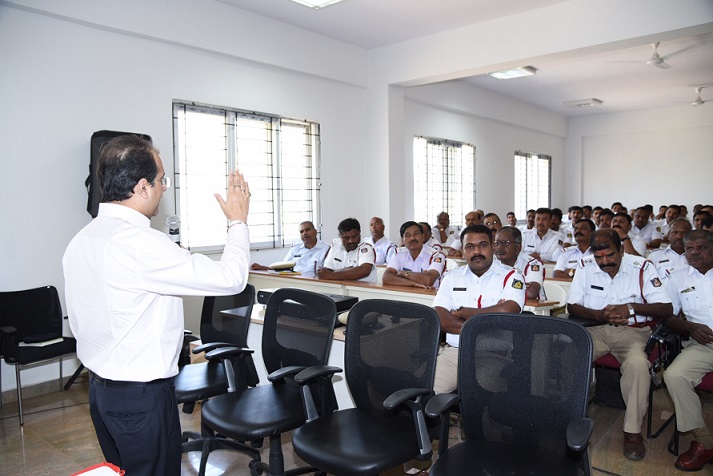 Speaking about the session, Dr Samir Parikh said, "Stress is a reality that all of us has to live with. The amount of stress that our policemen undergoes during management of traffic in the congested roads of Bengaluru is tremendous. This is an attempt to help our policemen to enhance their wellbeing. The tips will go a long way to relax them and allow them to be more empathetic towards the need of the common man. It is important that the community recognize the effort made by these valiant policemen so that they are encouraged to contribute more towards welfare of the people. The session is our humble effort to appreciate their grit and determination at work and help them feel at ease and happy in their lives."
Mr. R. Hithendra, Additional Commissioner of Police (Traffic), Bengaluru City, said, "It is a very encouraging effort to address the stress experienced by our forces to keep the city safe day in, day out. Many felt both physically and emotionally drained after tiring duty to keep the streets safe with arduous working conditions in trying weather with humongous vehicular traffic. I am sure that tips shared by the experts here today will help them to steer clear of stress. This will also help them to perform better at work and be more empathetic to the needs of others." 
Speaking after the launch of the poster, Mr Raj Gore said, "We need to take care of our police who toil day and night to keep us safe. These sessions will not only help the policemen to relax but also help them to develop an empathetic attitude at work. This is a small support initiative by Fortis Hospitals, Bangalore to express our appreciation and gratitude towards traffic police of Bangalore."