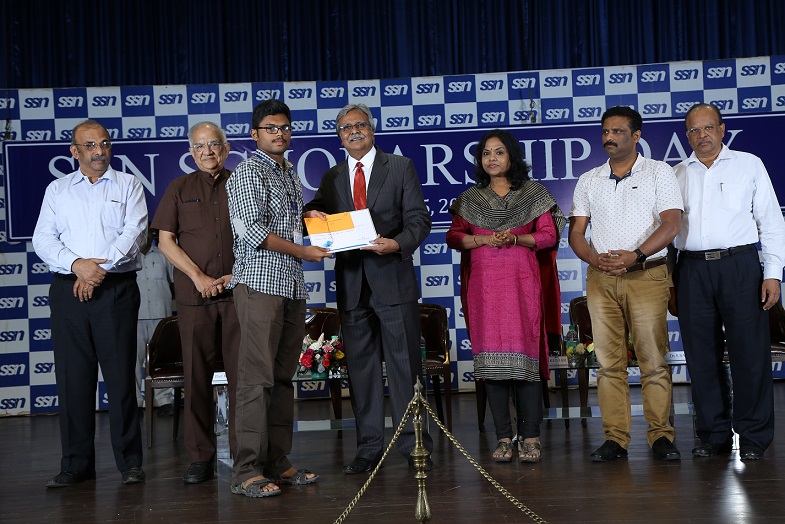 600 students avail benefits on SSN Scholarship Day 2017-18

Chennai, February 6, 2018 – SSN Institutions, one of India's premier education institutions organized its 19th Annual Scholarship Day yesterday. Hon'ble Justice CT Selvan, Chief Guest at the event and Mr. Suresh Sambandam Founder, Orangescape Technologies Limited, the Guest of Honour distributed Scholarships worth Rs. 4.0 crore to around 540 students. Started in 1999, the SSN Scholarship Scheme has benefited over 7700 students till date and over Rs. 68 crores have been disbursed under various categories.
Mr. R. Srinivasan, Chairman, SSN Institutions, Mrs. Kala Vijaykumar, President, SSN Institutions, Dr. S Salivahanan, Principal, SSN College of Engineering and Prof. B Srinivasan, Director, SSN School of Management were also present.
SSN Institutions offers scholarships across various categories: Rural scholarships, Walk-in-walk-out scholarships, Sports scholarships, Music scholarships, Merit scholarships, Merit-cum-means scholarships and SSN VidyaGyan Scholarships
The SSN Scholarship Scheme benefits all eligible students in undergraduate and postgraduate courses in Engineering and the Masters of Business Administration (MBA) programs.
The Alumni of SSN as in the previous years have once again extended support towards this effort by contributing nearly Rs. 10,00,000 for 23 students under the merit-cum-means category. The students who have earlier benefited from SSN's Rural Scholarship Scheme donated a sum of Rs.60,000 under the 'Rural Scholars – Giving Back' scheme.
Rural Scholarship is a unique scheme for providing admission and totally free education at SSN to rural scholars and it started in 2008 with the first batch graduating in 2012. Rural Scholarship is extended by SSN to meritorious students from rural government schools in Tamil Nadu, typically with Tamil as the medium of instruction. 25 students are admitted every year under this scheme and all their expenses are managed by SSN. SSN organizes special life skills training sessions for students under the rural scholars scheme to enable them to compete successfully with their counterparts from urban areas.
Speaking on the occasion the Chief Guest congratulated the scholarship recipients and said "It gives me immense pleasure to be a part of this event at SSN institutions today. I would like to congratulate all the students, Mrs. Kala and other faculty members for their success and hard work. I see a bright future for students here at SSN and strongly believe that this institution is going to give us some leaders in the future."
Mrs. Kala Vijayakumar, President, SSN Institutions, said, "It is very gratifying to note that the culture of giving back to the society is successfully inculcated in our students. This is a prime example of spirals of inspiration that education can create. This comprehensive ideal of growth and transformation is a dire necessity for our country to grow competitively in the global arena."
About SSN Institutions
SSN Institutions, located in the Old Mahabalipuram Road, is spread over 250 acres with a built-up area of over 1.8 million sq ft and is equipped with state-of-the-art infrastructure for learning including computers and Internet facilities networked by optic fibre links, modern workshops & labs, seminar halls, auditoria, libraries, gymnasium, a sports complex and hostels for men and women. The campus is entirely wi-fi enabled with 24/7 internet access. The total students' strength is 4400. SSN has one of the highest percentages of PhD holders in its faculty among all private educational institutions.
SSN Institutions currently comprise of a College of Engineering, School of Management, School of Advanced Software Engineering, School of Advanced Career Education and the Research Center.
About Shiv Nadar Foundation
The Shiv Nadar Foundation (www.ShivNadarFoundation.org) has been established by Shiv Nadar, Founder, HCL – a $8 billion leading global technology and IT enterprise, with over 120,000 employees across 39 countries. Founded in 1976, HCL is one of India's original IT garage start-ups and offers diverse business aligned technology solutions spanning the entire hardware and software spectrum, to a focused range of industry verticals.
The Foundation is committed to the creation of a more equitable, merit-based society by empowering individuals to bridge the socio-economic divide. To that purpose the Foundation is focused on the underdeveloped disciplinary areas in India related to transformational education, creativity and art.
The Foundation set up the SSN Institutions (www.SSN.edu.in) in 1996, comprising the SSN College of Engineering (already a highly ranked private engineering college in India), in Chennai, Tamil Nadu. The Foundation has also set up VidyaGyan (www.VidyaGyan.in), a residential leadership academy for meritorious rural children, at Bulandshahr and Sitapur in Uttar Pradesh. In addition, the Foundation runs the Shiv Nadar University (www.snu.edu.in), an international multi-disciplinary university with strong research orientation located in Greater Noida in India's National Capital Region and the Shiv Nadar School (www.shivnadarschool.edu.in), a network of progressive urban schools across India aimed to provide children with education that creates lifelong learners. The Foundation has also set up the Kiran Nadar Museum of Art (www.knma.in), India's largest private philanthropic museum in modern and contemporary art, with the vision to take art to the common public.