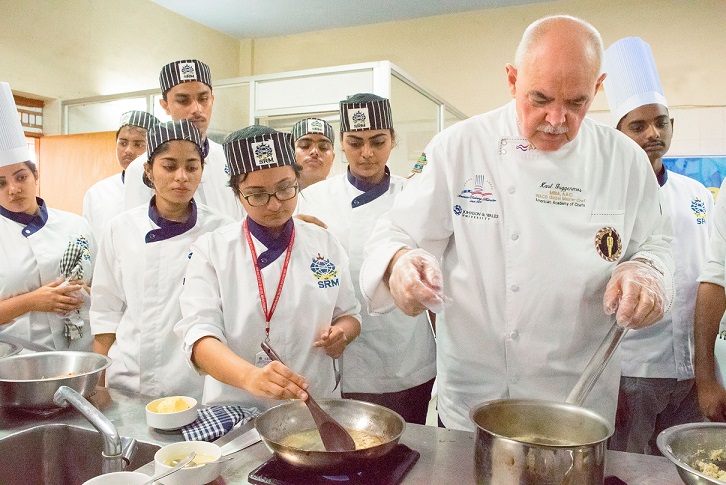 SRM Institute of Hotel Management established in the year 1993 is a part of premier educational SRM group. It's been offering quality hospitality education and training for more than two and half decades. SRM IHM believes in the holistic growth of a student, thereby focusing on all the aspects which in turn mould a student to become a competent professional.

SRM Institute of Hotel Management on 7thFEB,  2018 from 10.00am conducted an International culinary demonstration & Interactive session with "Master Baker"-Chef Karl Guggenmos, Dean  of Johnson Wales University California, aGlobal Master Chef, is renowned near and far, for his delightful baking skills and flair,at  SRM IHM.
This tie up between various international culinary organizations and SRM IHM for sure will enable the students of SRM IHM to expand their horizons beyond the classrooms, maximizing their employability with a range of degree and nationally-recognized diploma, certificate and different programmes suitable for their level of experience and commitment.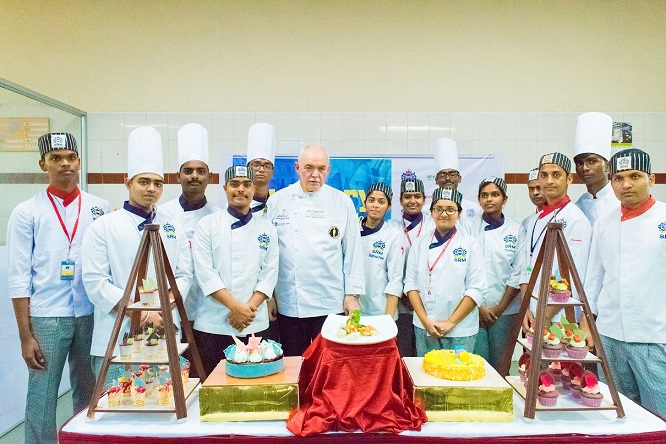 The demonstration  given by chef Karl Guggenmosin presenting aromatic, delicious, mouth watering dishes like ItalianYummy Juicy Ricotta Cheese Dumplings and Italian aromatic Lemon chicken Piccata with spinach made the witnessing students, the budding chefs to aspire and dream ahead of a step in their passion of becoming the future chefs.
This demonstration was attended by the students of IHM Chennai, the Hotel management students of ASAN Memorial college of Arts and science, Students of SRM college Ekkaduthaangal and Students of SRM IHM.
The event concluded with Dr. D. Antony Ashok Kumar, the Director of SRMIHM honouring Master Baker Chef Karl Guggenmos with the memento and also to Ms. KasturiThangiah, The Recruitment Manager of AtSunrice, Singapore.