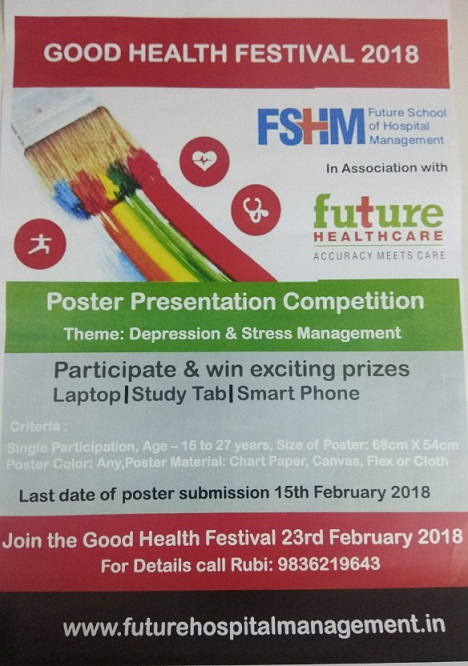 Kolkata, February 12, 2018
Future School of Hospital Management in association with Future Healthcare is organising a poster presentation competition on the theme of Depression and Stress Management. This poster is a part of Team Future's 'Good Health Festival 2018'.

The last date of submission is 15th February, 2018 with opportunities to win exciting prizes such as Laptop, Study Tab and Smart phone.
Founder Director of Team Future Dr. Mousumi Ghosh said, "The poster competition offers a platform for young talents from colleges across Kolkata to showcase the rising concern on depression through the medium of art."
The competition comes with criteria such as single participation within the age of sixteen to twenty seven. The mandatory size of the poster should be 68cm x 54cm. While the poster can be of any color the material used should be either cloth or flex.
Join Future School of Hospital Management in their 'Good Health Festival 2018' on 23rd of February, 2018
Link: www.futurehospitalmanagement.in
About Team Future:
           Team Future was envisioned by Dr. Mousumi Ghosh and Mr. Silajit Ghosh to create wide angle learning opportunities for nurturing generations of future responsive professionals. Their entrepreneurial journey started with educational initiatives in the year 2001.
            Formed by a team of distinguished academicians' and professionals from IIM Calcutta, IIT Kharagpur, and Jadavpur University, Team Future has successfully created quality driven education system with a focus in engineering, management, media, and healthcare disciplines over and above school education. Over the last 17 years, Team Future has augmented their pedagogy with wide angle learning approach. We believe in optimizing learning with extensive research and training to cater to the needs of the students as per the demands and challenges of the times.
Link: http://www.teamfuture.in/
About Future School of Hospital Management:
Future School of Hospital Management is one of the recent education initiatives under Team Future. The institute was established to equip aspiring healthcare administrators and managers for the emerging career opportunities in healthcare administration and management. The extensive hospital management curriculum, which takes into account student's specific interests led by a dedicated faculty, who are experts in their chosen fields. The ultimate goal is to create supremely accomplished professionals and executives who advance the industry.