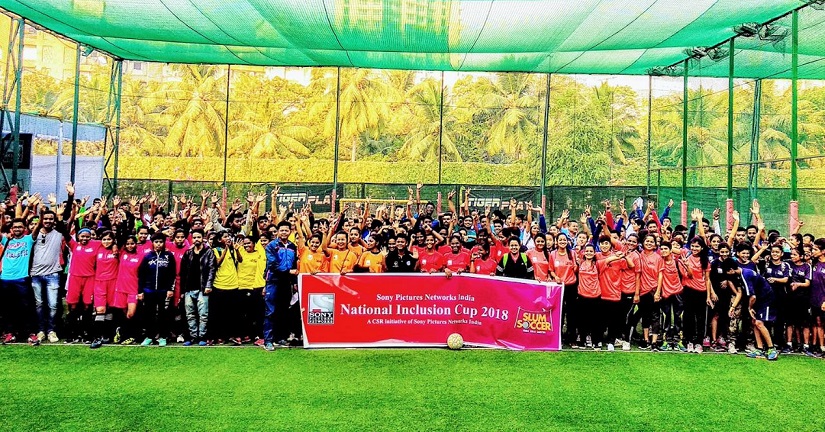 Sony Pictures Networks India (SPN) is proud to be sponsoring the 2nd edition of the National Inclusion Cup(NIC), which is the only national football tournament of its kind for underprivileged youth. TheNIC is being held from 20th-23rd Mar'18 at Tiger Play, Lokhandwala, Mumbai and is organised in partnership with the NGO, Krida Vikas Sanstha (Slum Soccer).

The first edition of the NIC in Feb 2017, saw participation of 40 teams (24 men and 16 women) from different states of India and a team from Nepal.  The best performing players from the NIC were selected to represent India in the Homeless World Cup 2017, in Oslo, Norway. A portable pitch along with sidings was also imported from Scotland through SPN support to help them practice for the Homeless World Cup. Team India had their best performance ever in the tournament as the Indian women's team ranked 7th and men's team stood at 18th.
This year the number of teams have increased from 40 teams last year to 50 teams including two teams from Nepal, covering close to 500 youth. There are 8 new states added to the tournament and representation from the North East has increased. With the aim of having equal representation of women, the second edition of NIC has successfully achieved an increase in the number of women's team from 16 to 25. Several Youth leaders (about 12-14) who underwent another SPN supported 'Game Changers' program for building community leaders, are either leading some state teams or actively involved in bringing the teams together. This year the tournament is being played on two pitches in parallel, as compared to one last year.
Teams from the following states are participating this year:  Maharashtra, West Bengal, Assam, Tamil Nadu, Andhra Pradesh, Madhya Pradesh, Haryana, Jharkhand, Chhattisgarh, Vidharbha, Orissa, Gujarat, Delhi, Jammu and Kashmir, Uttar Pradesh, Kerala, Meghalaya, Punjab, Telangana, Uttarakhand, Goa, Manipur, Bihar, Rajasthan as well as Nepal.
Slum Soccer also invites entries from organizations like Ekjut, Childreach International, United women's football, North East Indian goal, Maher, Narmada group of institution and Sportskedia to participate in the event.
Empowering India's youth through sports is a key focus for SPN as it aims to influence the sports narrative in India through its on air and off air initiatives. Through its partnership with Slum Soccer, SPN aims to be a cornerstone of support in helping shape the lives of underprivileged youth through football. With SPN's constant support, the Slum Soccer team has been able to encourage participation, increase reach and provide top notch training to the participants.
SPN is committed to co-creating India's social development agenda through its focus on education, empowerment and environment. The objective of SPNs social impact initiatives is to promote the spirit of 'Ek India Happy Wala'.
Comments:
Smriti Krishna Singh, CHRO, Sony Pictures Networks India (SPN):
"We are pleased to be providing India's youth from less-privileged backgrounds the opportunity to improve their lives via. football & other community leadership programs. The increase in reach of the NIC and the infectious energy of nearly 500 youth from all over India is indication that we are on the right path. We aim tocontinue providingthem access to equalopportunities and hope to harness their energy so that they can build a better tomorrow."
Vijay Barse, Founder, Slum Soccer:
"It is such a proud moment for every one of us at Slum Soccer that this event is growing in size and stature with every passing year. Our mission is to spread our wings as much as possible and engage with as many youth as possible through the National Inclusion Cup. We thank Sony Pictures Networks and all our partners in giving wings to our vision and look forward to their continued support."
About Sony Pictures Networks India (SPN)
Sony Pictures Networks India (SPN), is a subsidiary of Sony Corporation which owns and operates the Sony Entertainment network of television channels.
SPN comprises 31 channels including Sony Entertainment Television (SET and SET HD), one of India's leading Hindi general entertainment television channels; MAX, India's premium Hindi movies and special events channel; MAX 2, another Hindi movie channel showcasing great India Cinema; MAX HD, a high definition Hindi movie channel airing premium quality films; WAH, the FTA channel for Hindi movies; SAB and SAB HD the family-oriented Hindi comedy entertainment channels; PAL, a genre leader in rural Hindi speaking markets (HSM) showcasing the best of Hindi general entertainment and Hindi movies from SPN's content library; PIX and PIX HD, the English movie channels; LePlex HD showing critically-acclaimed Hollywood films; AXN and AXN HD, the action and adventure-oriented English entertainment channels; Sony BBC Earth and Sony BBC Earth HD, the premium factual entertainment channels, Sony AATH, the Bangla entertainment channel; MIX a refreshing Hindi music channel; ROX HD, a channel for contemporary Hindi music; YAY!, the kids entertainment channel; Sports Network comprising 11 sports entertainment channels – SONY SIX, SONY SIX HD, SONY ESPN, SONY ESPN HD, SONY TEN 1,  SONY TEN 1 HD, SONY TEN 2, SONY TEN 2 HD, SONY TEN 3, SONY TEN 3 HD, SONY TEN GOLF HD; SonyLIV – the digital entertainment VOD platform, SPN Productions, the networks' film production arm and Sony Pictures Networks Distribution Pvt Ltd. (SPND) that distributes the networks television channels across different genres and languages through multiple content delivery platforms. SPN reaches out to over 700 million viewers in India and is available in 167 countries.
The network is recognized as an employer of choice within and outside the media industry. SPN is a recipient of several awards, including the 'Aon Best Employers India' Award in the 2017 edition in recognition of SPN's unique workplace culture and exceptional people practices, consistently ranking amongst India's Top 10 Companies with Best Health & Wellness Practices by SHRM & CGP Partners, listed by Working Mother & AVTAR as one of the 100 Best Companies for Women in India in 2017 and adjudged one of India's Great Mid-Size Workplaces for its distribution business by the Great Place To Work® Institute in the 2017 edition.
Sony Pictures Networks India Private Limited is in its 23rd year of operations in India. Its subsidiaries include Sony Pictures Networks Distribution India Private Limited, MSM-Worldwide Factual Media Private Limited, MSM Discovery Private Limited, Taj Television (India) Private Limited, Aqua Holding Investments [Pvt.] Ltd., and Bangla Entertainment Private Limited.