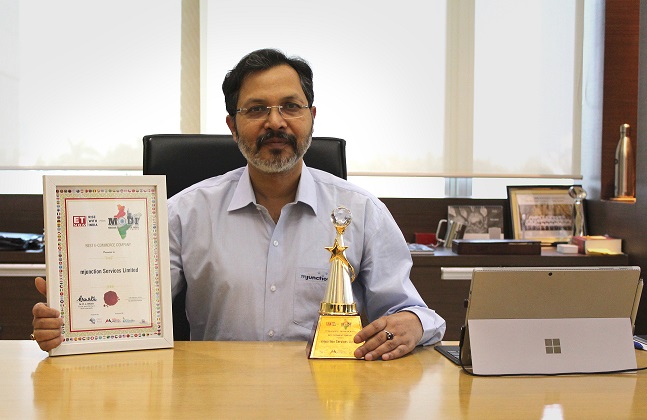 mjunction won "Best Ecommerce Company" Award in the maiden "ET NOW Making of Developed India" Awards 2018, which is a part of Digital India Week on 17th February in Mumbai.

mjunction CEO Mr Vinaya Varma said, "We are happy to receive this award, and I am thankful to ET Now and the jury. mjunction is a leader in B2B ecommerce. From auctioning steel and coal, we have come a long way to include a wide plethora of services in our bouquet — from auctioning spectrum for Department of Telecommunications to e-bidding of oil and gas fields for DGH, Petroleum Ministry, from commercial papers to tea, from ocean vessel chartering to diamonds, from forest produce to F&B, just to name a few. We are also using futuristic technology such as Artificial Intelligence, Machine Learning and Robotics to provide more innovative solutions to our clients."
About the company: mjunction services limited, India's largest B2B e-commerce industry and a joint venture between TATA Steel and SAIL was founded in February 2001. It offers a wide range of e-selling, e-sourcing, e-finance, e-retail and knowledge services across diverse industry verticals that empower businesses with greater process efficiencies. mjunction is an ISO 9001:2008, ISO 27001:2005 and a CMMI Level 5 certified company.