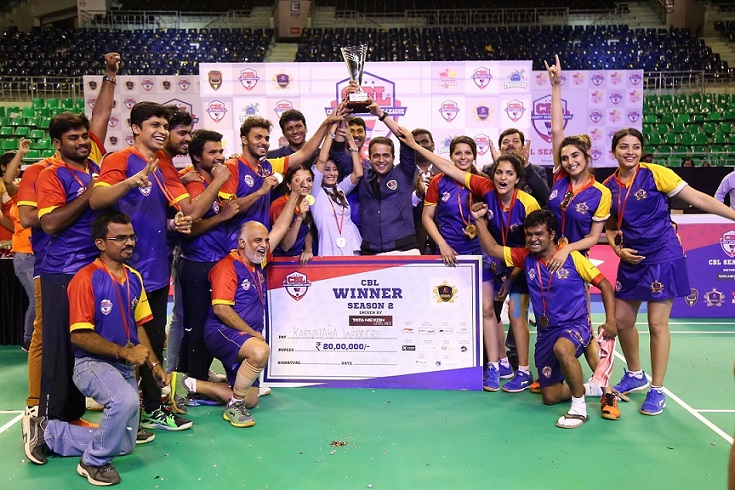 Sponsorship Awards to Next Gen champions from cities across Tamil Nadu

Chennai, March 1, 2018: Karnataka Warriors win the Celebrity Badminton League (CBL) –  Season 2  that took place on 25th February, 2018. Speaking about the specific categories, Karnataka warriors emerged as winners in the Men's Singles, Men's Doubles and Mixed Doubles thus winning the overall trophy. Kerala Royals scaled the 2nd place winning two categories namely Women's Singles and Women's Doubles.
Manoranjan from Karnataka Warriors won the Men's Singles Final against Sreeshanth from Kerala Royals.   Men's Doubles went to the duo Manoranjan and Harsha from Karnataka Warriors while Munna Simon and Rajiv Pillai of Kerala Royals were the runners up. The charming Parvathy Nambiar and the winning combo Ranjani Haridas and Rosin Jolly from Kerala Royals won the Women's Singles and Women's Doubles respectively. Ravi Chetan and Disha Poovaiah of Karnataka Warriors emerged as champions in Mixed Doubles.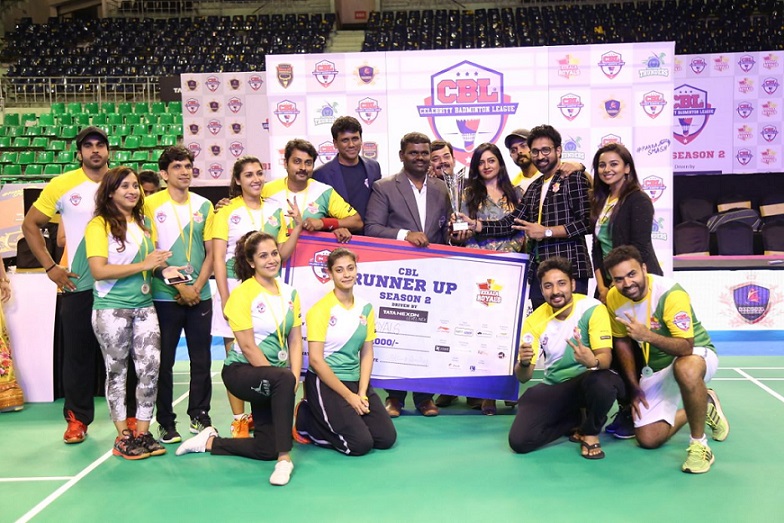 The players were very enthusiastic and they played with passion which was very engaging and kept people on the edge. Audience were hooked on to their seats waiting in anticipation for some enjoyable moments. The spectators were in awe to see their favourite celebrities play with such professional expertise.
Additionally, as part of Season 2, CBL team had organized NextGen 'Talent Hunt' – with an aim to select and nurture potential aspirants which will eventually serve as a launch pad for professionals in this sport. It was organized across 3 cities in Tamil Nadu namely Chennai, Coimbatore and Madurai. The event saw a total of 557 registrations across 3 different age categories – Under 10 , Under 13  and Under 15 . The tournament took place on the 17th and 18th of February at Chennai, Madurai and Coimbatore. After an exciting round of matches and fire cracking performances, total prize money of 1 Lakh rupees were handed over to the winners and runners up.
As the Next Gen Champions, 4 players were selected based on their performance in the tournament for the sponsorship awards.
Srinidhi of Kanchipuram (Chennai) – Winner : Under 15 girls Singles & Doubles, Under 13 Girls Singles.
Sanjay NairofThiruvallur (Chennai) – Winner : Under 15 Boys Doubles & Runners Up under 15 Boys Singles
Reshika of Thirunelveli (Madurai) – Winner : Under 13 Girls Singles & Runners Up under 15 Girls Doubles
Niranjaan Nandakumar (Coimbatore) – Winner: Under 13 Boys Singles & Doubles
Addressing the gathering, Mr. Hemachandran, Founding Director & CEO – CBL said, "I am delighted with the success of the CBL Season 2. We had an exciting time conducting the event and I am very sure that everyone associated with this would also feel the same. The mélange of different communities and the diverse talent adds a lot of memorable and colorful moments worth cherishing. With our endeavor to promote and groom future talents, this year we also have been able to sponsor aspiring Badminton players under the Next Gen program. We plan to take this forward on a large scale in the coming years."
About Celebrity Badminton League: Instituted in the year 2017, Celebrity Badminton League (CBL) is a premier platform for stars from various film industries to showcase their interests and talent in badminton. CBL currently features celebrities from four major film industries in South India, representing their respective regions, as they battle against each other in the league matches. There will be 5 major categories this league – Men's singles, Men's Doubles, Women's singles, Women's Doubles and Mixed Doubles, to ensure gender equality and quality entertainment for our audience. Celebrity Badminton League is a unique sporting league that intends to create a niche in the "Sportainment" industry.