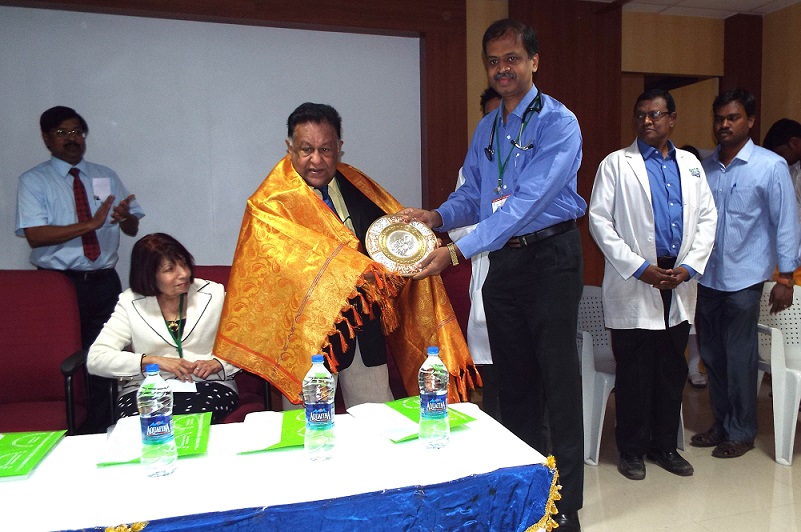 Chennai, 26th February 2018: The 7th CME programme got off to an excellent start with the State invocation and traditional lighting of the lamp of knowledge. Prof Swaminathan MD., DM, Director, Institute of Cardiology, Madras Medical College, Chennai welcomed the chief guest, Dr. Mariappan, MS. M.Ch, Prof. of Cardio Thoracic Surgery, Madras Medical and other delegates.

The Cardiac Transplant pioneer Dr. K M Cherian, Chairman and CEO of Frontier Lifeline Hospital & Frontier Mediville gave an extensive review of the Heart Transplantation in India ever since the Cardiac Transplant Program was legalized. The objectives of this particular CME programme, namely to disseminate knowledge on overview of heart transplant and he said "Even though the transplant program in India was started in Sept 1995, the mortality has been not very acceptable comparing to the western countries were the experience is large and the treatment for rejection phenomena has been advanced. In our country there are only scarce reports on rejection process and the purpose of this meeting is to discuss the early signs and formulate effective treatment"
The Chief mentor of the program Dr. Saroja Bharati, MD, Prof of Cardiac Pathology, Rush University Chicago who proceeded to give a brief review of the subject of Cardiac Rejection which is now the most important aspect necessary to handle patients of Cardiac Transplants. Every Transplant is bound to have rejection since it is a foreign organ which is being introduced and thus the outcome / survival of transplantation depends exclusively on prevention of rejection. This is a very vital point for discussion since the transplant technique itself has been more or less been made perfect. The importance of transplant is to ensure survival of the patient and if the patient cannot survive because of rejection, the whole object gets defeated"
Dr. Jayanthi MD., DFRCP, Dean, Madras Medical College & RGGGH, Chennai, inaugurated the CME programme and observed that such programmes is required to fulfill the needs of the students, both at undergraduates and post graduates level.
During her inaugural speech, Dr. Jayanthi said "Cardiac Transplant are to be more effectively dealt with in the Government Hospitals which require more support from the Govt not only for infra structure but also for obtaining the necessary maintenance therapy drugs"
The inaugural programme concluded with a heartfelt vote of thank by the Dr. Sarasa Bharati, MD, PhD, Director – Lab service & Adviser Academics at Frontier Lifeline Hospital.
The 1st Scientific session presided over by Dr. C. Moorthy, MD, Prof of Cardiology (MMC) and Dr. Raghava Subramanian MD, DM, Senior Consultant in Cardiology, (FLL). Dr. Saroja Bharti, MD presented a live demonstration of normal heart and compared it with various different types of rejection as seen in Frontier Lifeline. This was followed by Dr. R. Anantharaman, MD,DM who gave a brief note on the "Management of Cardiac Rejection"
The 2nd session started with topic on 'Lung transplant Management issues' by Dr. Mariappan, MS, M.ch, Prof. of Cardio Thoracic Surgery, Madras Medical College, "Much attention has been so far paid to heart transplant for many obvious reasons through the heart though the heart acts only as a pump and many adjectives have been attributed to the heart as the heart has different types of emotions such as "heartfelt sympathy", "heartfelt love", etc , as these functions are felt only by the brain and not the heart. However the heart is the important organ for which it requires much more concern and occupies a better rank where transplantation is concerned.
Dr. Madhu Sankar, Senior Heart Surgeon of FLL gave an exciting talk on cardiac transplantation tracing the history of Cardiac Transplantation at FLL from Sept 1995, talked briefly on the technology and later post op treatment.
Dr. Sarasa Bharati gave an excellent account of the history of lung transplantation followed by various indications for lung transplantation, in addition to the various changes occurring after lung transplant were also dealt with comprehensively.
The event ended on a good note with a vote of thanks by Dr. Cecily Mary Majella, MD., DM, Professor of Cardiology, Madras Medical College.