Chennai's largest and upcoming industrial and automobile belt – Sriperumbudur-Oragadam today saw the opening of its first international hotel – Mercure Chennai Sriperumbudur. The perfect mix of modernity and tradition, the hotel allows its guests to truly experience South India by offering a contemporary 'home away from home'. Ideally located for business travellers with its proximity to major corporates and IT companies, it is only a 45 minute drive from Chennai International Airport and an hour's drive from the historic monuments and beaches of Mahabalipuram.

This marks AccorHotels' sixth property in Chennai, the Gateway of South India and seventh property in the state of Tamil Nadu.It is also in the vicinity of Kanchipuram famous for its historic temples and Kanjeevaram sarees. Mercure Chennai Sriperumbudur features 100 well-appointed guest rooms, including six suites. Each guest room features spacious interiors and modern design, and comes equipped with in-room amenities, including complimentary high-speed Wi-Fi access. The hotel also features a state-of-the-art fitness centre where fitness enthusiasts can enjoy their work out with the best and latest equipment.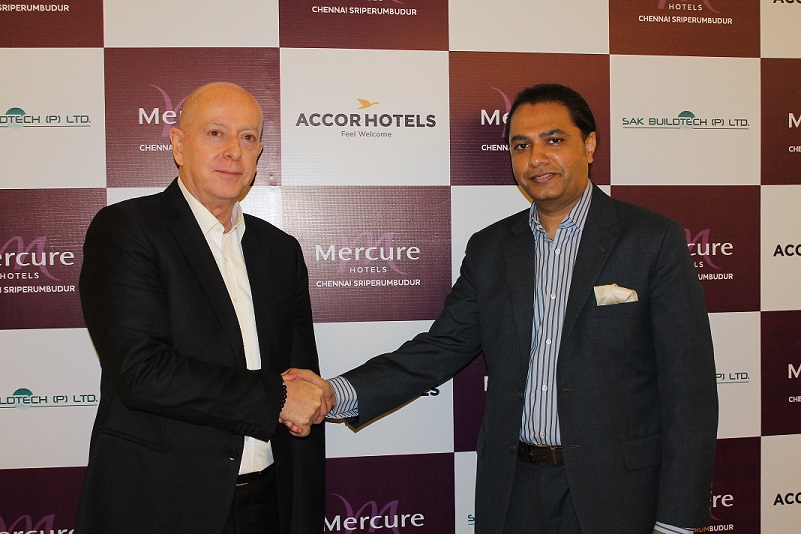 Speaking on the occasion, Mr Neeraj Govil, Chief Executive, SMP Management Group said: "We have a long standing association with Chennai and hence, it was quite logical for us to commence our association with AccorHotels from Chennai. We are privileged to partner with AccorHotels in bringing Mercure, the first international brand to the new and fast-growing industrial corridor of Oragadam. Leading national and international brands in the automotive sector have already set-up operations here and the market is ready and looking forward to a brand new property offering international standards of amenities and operations."
"It is a proud moment for us to announce our first Mercure in Sriperumbudur. The opening of the hotel marks yet another milestone for AccorHotels' expansion and growing brand presence in the country," said Jean-Michel Cassé, Chief Operating Officer, India & South Asia, AccorHotels."Chennai is an important market for us as it enjoys the unique positioning of being a business hub with a rich cultural heritage.The launch of this hotel has made us the largest hotel operator in Chennai with six hotels and a combined inventory of more than 950 rooms. We are well represented in the Tamil Nadu market with brands like Novotel, Mercure and ibis." said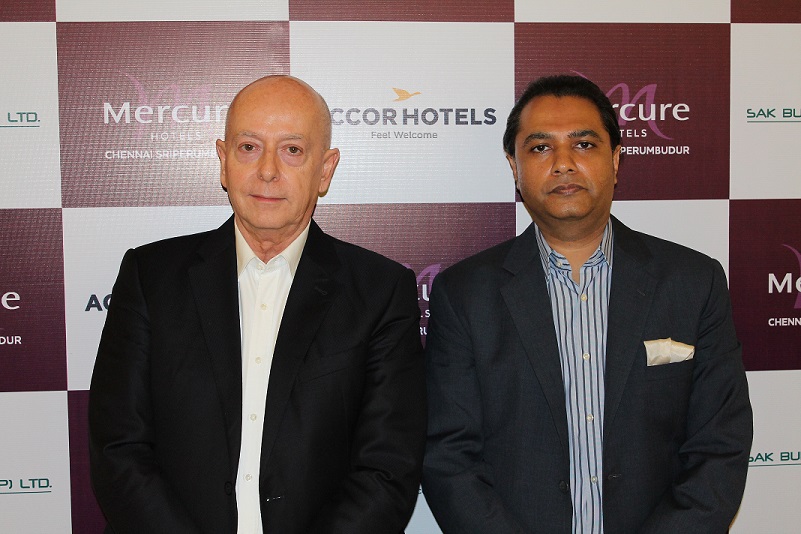 True to its lineage, Mercure as a brand has its personality firmly rooted in the local environment and culture, thus offering guests an authenticexperience. Mercure Chennai Sriperumbudur featureslocal elementswhich are reflected in the design and the cuisine. Drawing from the deep-rooted cultural heritage of Tamil Nadu and the rich corpus of literature, the hotel rooms give guests a taste of this ancient history through the writing of "Thirukkural" by the celebrated Tamil poet and philosopher, Thiruvalluvar which is depicted in the wallpaper used in the hotel.Omnipresent throughout the hotel is the theme of the Lotus as a symbol of Creation, while, the lobby is an ode to the local craftsmanship thorough vibrant and colourful displays of Tamil art. To ensure that guests have an all-round experience, staff includes personnel from the city and nearby places who can assist guests in understanding the local culture and help in sight-seeing.
As part of the food and beverage offerings, Mercure Chennai Sriperumbudur is home to Melange, An exciting culinary experience awaits you at Melange with our "World on your platter" concept inspired by the multinational environment that we operate in, featuring an inspired bistro a-la carte menu and a sumptuous buffet.HybridA heart of the house café bar & lounge designed into multiple spaces to act as a meeting space, a retreat or a stylish entertainment hub whatever the mood that strikes you, serving a dynamic selection of beverages and finger food. Anahata – to unwind. Relax and rejuvenate by the pool side or dine Al fresco in serene surroundings. Serving a selection of Grill favourites and Chef's selection for dinner.
Rahul Nama, General Manager, Mercure Chennai Sriperumbudursaid, "We are excited and proud to introduce the Mercure brand to Tamil Nadu. The property is designed in a contemporary and modern style, yet blends perfectly with the local ambiance. We look forward to welcoming corporate and leisure travellers seeking the high level of comfort, service and quality which are synonymous with the Mercure brand."
The hotel also joins Le Club AccorHotels; one of the most powerful and rewarding loyalty programs in the world, which offersmore than one million members in India benefitsincludingthe most attractive rates, faster check-in, late check-out and upgrades, among other exclusive privileges.
With more than 770 hotels in 61 countries located in the centre of key cities, Mercure provides a multi-service offering to business and leisure guests with spacious, modular rooms, balanced meals, meeting rooms, a multi-purpose lobby and fitness centres.
To celebrate its opening, the hotel is offering stay for a limited time at a special price of INR 4,999 (plus taxes) per night, inclusive of breakfast, complimentary and high speed Wi-Fi connectivity
For reservations, please call +44 67118500 or email h9249-re@accor.com
Note to Editor: Hi-res images can be downloaded via:http://bit.ly/2oKFDcF
About Mercure
With Mercure, AccorHotels offers hotels that are all different and locally inspired.
Mercure is the only midscale hotel brand that combines the strength of an international network with a strong quality commitment and the warm experience of hotels that are rooted in their local community. Mercure hotels are managed by enthusiastic hoteliers and welcome business and leisure travelers across the world.  Mercure has over 770 hotels in 61 countries. They are ideally located in city centers, by the sea or in the mountains.
AccorHotels is a world-leading travel & lifestyle group and digital innovator offering unique experiences in more than 4,300 hotels, resorts and residences, as well as in over 10,000 of the finest private homes around the globe.
mercure.com|accorhotels.com
AccorHotels in India
AccorHotels operates a network of nine distinctive brands with over 8,500 rooms spread across 47properties in 22 key destinations in India. Underpinned by operational excellence and embracing its European heritage, AccorHotels is uniquely placed as the only international hotel group with brands that span across all segments, from its internationally acclaimed luxury Sofitel, Fairmont, Pullman, Swissôtel and Grand Mercure brands; as well as the popular Novotel and Mercure midscale and boutique brands alongside the much-prized economy brands including ibis, ibis Styles.
Rahul Nama, General Manager,
Mercure Chennai Sriperumbudur
Rahul Nama is the General Manager of Mercure Chennai Sriperumbudur, Tamil Nadu's very first Mercure hotel. In the leadership role, Raj spearheads the business operations, overall implementation and business development at the 100-room property.
A seasoned hotelier with over two decades of experience across a broad spectrum of hospitality functions in various locations, Rahul holds specialisation in hotel operations, having spent over ten years in the General Manager role for leading hospitality brands such as Hilton, IHG, Thunderbird Resorts andFortune Hotels. His varied experience saw him serving in competitive markets like Indonesia, Philippines, Israel to name a few. He also has the hands-on operational knowledge, and experience in working with cross-cultural, multinational teams in multilingual environments.
Prior to joining AccorHotels in 2017, Rahul was the General Manager, ITC Fortune Park Hotels Ltd. inGurugram.
A native of Lucknow, Rahul holds a Bachelor's Degree in Hotel Management from IHM Lucknow.
A passionate sportsman, in his spare time, Rahul enjoys travelling and learning about cultures from around the world.
Jean-Michel Cassé
Chief Operating Officer,
India and South Asia,
AccorHotels
Jean-Michel Cassé is the Chief Operating Officer[COO]- India and South Asia for AccorHotels. He isresponsible for leading teams in the region to ensureAccorHotels' continuedgrowthmomentum in India and South Asia led by the Group's fervent focus on guests first and foremostwhileperformingstrongly for itsowners and investors
In hismostrecentrole as Senior Vice-President for AccorHotels, India, Jean-Michel has played a pivotalrole in the Group'ssuccess in India.
A seasoned hotelier, Jean-Michel has over three decades of industry experience and a deep understanding of varied cultures, having worked across multiple international markets in Europe, Asia, Middle East and Africa.
Widely recognised for his outstanding skills, expertise and contribution, Jean-Michel Cassé was awarded a Gold Bernache for Professionalism by the Chairman of AccorHotels in 2004. In 2007, he was conferred with the "Chevalier de l'Ordre National du Merite", a French honour for distinguished civil and military achievements by the erstwhile French President. By appointment of the French Prime Minister, Jean-Michel is also a special adviser of the French Foreign Trade and Vice President and General Secretary of the committee in India.
Jean-Michel holds a Masters in Hotel & Tourism with a specialization in Services & Management. He is passionate about travel and discovering new cultures, and in his spare time, likes to unwind with yoga and music.
Neeraj Govil
Chief Executive SMP Management Group& Executive Director SAK Build tech Pvt Ltd.
Mr. Neeraj Govil is the Chief Executive of SMP Management Groupand Executive Director SAK Buildtech Pvt Ltd. He started his career in publishing. Having a nearly90 years old associationwith Chennai, Neeraj played a vital role in growing his family's publishing business, Frank Brothers & Company, he successfully brought about its merger with Macmillan, one of the biggest and most respected publishing groups in the world.
Neeraj headed the Joint Venture Company as its Managing Director for four years prior to his current position as a Director on the Board of Pan Macmillan India.
He is currently the Chief Executive of SMP Management Group, an overarching group organisation that maintains oversight on group interests in Investing, Hospitality and Publishing & Printing.Neeraj and his team work closely with executive leadership teams of group businesses.
With the opening of Mercure Chennai Sriperumbudur, SMP Management Group has ventured into the hospitality space with the objective of providing world-class stay experience to travellers to the automotive hub of Chennai.
For media information, contact
Amisha Gutgutia
+91 (0) 9899700171