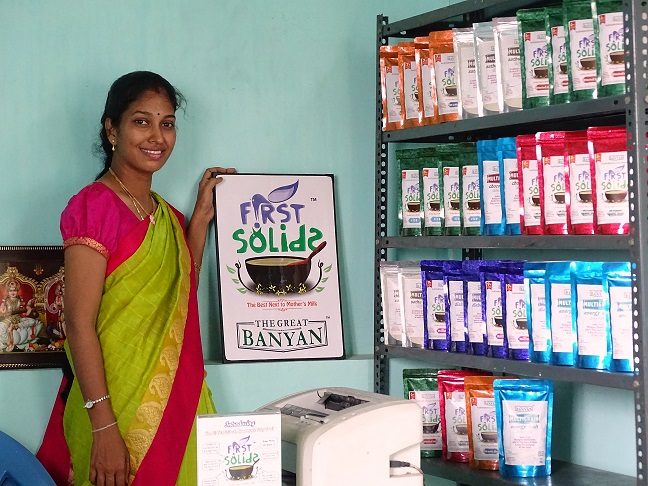 Ayshwarya Prabhuram, a mother of two, findsa new way to pursue her dreams and having a career by selling online on Amazon.in

Chennai, March6, 2018: Ayshwarya Prabhuram, an Amazon.inseller based in Chennai with the brand name The Great Banyansells natural homemade and organic products. Prior to this, Ayshwaryahad a well-paying job which she decided to give up after having her second child. She was wanting to be independent but did not want to go back to her old job. She even contemplated starting her own company but with zero experience, she felt unsure. At this point, Ayshwarya found a new way to keep her hope alive and pursue her dreams of having a career by selling online on Amazon.in.
Amazon.inprovided Ayshwarya with the opportunity to fulfill her dreams of staying independent financially and transform her life by boosting her capabilities to achieve success as a seller. She joined Amazon.in in June 2017 with the objective to bridge the gap between today's highly processed, unhealthy, ready to eat foods and our ancient healthy food practices. The Great Banyan offers100% natural, organic, homemade food products suitable for adults and kids including infants.
Ayshwaryahas left no stone unturned to leverage the growth of e-commerce to scale greater heights. With a good monthly income and a heartfelt contentment, Ayshwarya today is able to spend time with her children without giving up her dream of having a career and is leading the life that she wished for.Similar to Ayshwarya, Amazon.in has 4500+ sellers in Chennai and 16000+ sellers in Tamil Nadu, with a 40% growth in the number of sellers in Chennai and 57% growth in the number of sellers in the state in the last one year.
Ayshwarya Prabhuram, an Amazon.in seller with the brand name The Great Banyansaid, "Only mothers who have left their well-paying jobs to take care of their kids will know the pain of losing careers and dreams. Amazon.in provided me with the highest motivation and inspiration at the time when I needed it the most. I'm extremely happy with my association with Amazon.in and as a seller on the marketplace, I aim to continue bringing back our lost legacy of traditional natural homemade food in the current way of life."
Gopal Pillai, Director & GM, Seller Services, Amazon India said, "In line with our vision to transform the way India buys and sells, Amazon India has been continuously working towards enabling and empowering more and more sellers to embrace online selling and take advantage of thegrowing digital economy. We believe that it is essential to extend our support to sellers in ways that they benefit and grow.With our experience and deep understanding of customers across the country, we are truly excited to be able to bring a positive impact in the lives of the sellers on our marketplace."
Amazon started the journey in India in June 2013 with a few hundred sellers and today in less than five years of its operations in the country, there are over 3 lakh sellers selling on the marketplace. These sellers have listed over 160 million products on Amazon.in that get purchased by customers residing across all serviceable pin codes in India.More than 50% of the 300,000+sellers on Amazon.in are from non-metros.90% of the sellers on the marketplace use Amazon.in's logistics and fulfilment services.
Amazon.in works backwards from seller needs to design, conceptualize and innovate on new seller initiatives. Since its launch, Amazon.in has been working extensively to launch services that meet different business requirements of sellers and help them grow their business profitably online. From offering Fulfilment By Amazon (a pay-as-you-go fulfilment service wherein Amazon.in  packs, ships and delivers products to customers, manages returns and does customer service on behalf of the sellers), innovating Easy Ship (an assisted shipping service that makes it easy for sellers to ship products across India), launching Seller Flex (bringing Amazon's flagship FBA experience to the seller's doorstep by implementing the FBA technology at sellers' warehouses, to building the largest storage capacity in ecommerce in India for sellers to the tune of 13 million cubic feet, Amazon.in has been helping sellers reach millions of customers across the country.The company has created specialized training modules, conducted workshops with on-ground staff and shared learning resources to help them start & grow their businesses online.Through these initiatives, Amazon.in has been instrumental in transforming the lives of thousands of SMBs in India.
About Amazon.in                                                                                                               
The Amazon.in marketplace is operated by Amazon Seller Services Private Ltd, an affiliate of Amazon.com, Inc. (NASDAQ: AMZN). Amazon.in seeks to build the most customer-centric online destination for customers to find and discover virtually anything they want to buy online by giving them more of what they want – vast selection, low prices, fast and reliable delivery, and a trusted and convenient experience; and provide sellers with a world-class e-commerce marketplace.
For more information, visit www.amazon.in/aboutus.
Join Amazon Newsroom: Twitter | Facebook
About Amazon
Amazon.com is guided by four principles: customer obsession rather than competitor focus, passion for invention, commitment to operational excellence, and long-term thinking. Customer reviews, 1-Click shopping, personalized recommendations, Prime, Fulfillment by Amazon, AWS, Kindle Direct Publishing, Kindle, Fire tablets, Fire TV, Amazon Echo, and Alexa are some of the products and services pioneered by Amazon.com.
For more information, visit www.amazon.com/about and follow @AmazonNews