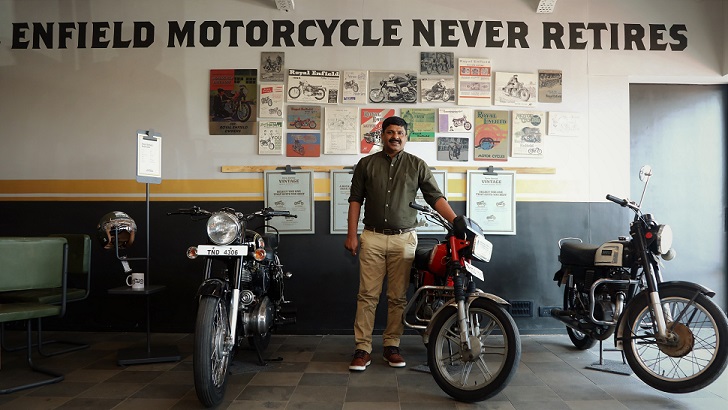 Will deal in pre-owned, refurbished and restored motorcycles – a first-of-its-kind in two-wheeler industry
Accessible, hassle-free, transparent sale and purchase of pre-owned Royal Enfield motorcycles
10 Vintage stores being planned across the country in the first year

Chennai, 8th March, 2018:  Royal Enfield, the global leader in mid-size motorcycle segment, today announced the launch of its first pre-owned motorcycle store in Chennai – Vintage. Royal Enfield Vintage Store is a new format that will deal exclusively in pre-owned, refurbished and restored motorcycles and is a first-of-its-kind initiative in the two-wheeler industry. It is designed for existing and potential Royal Enfield customers looking for quality tested and certified pre-owned motorcycles with optimum value a hassle-free experience. Vintage will also be a trusted platform for aficionados to own a piece of Royal Enfield legacy.
Vintage is a unique concept that allows for easy discovery and access to pre-owned Royal Enfield motorcycles with the advantage of transparent process and pricing. Targeted at Royal Enfield motorcycle connoisseurs, Vintage is the ideal platform for a variety of customers and enthusiasts. While on the one hand, it is meant for the existing Royal Enfield owner who is looking to upgrade and also for the aspiring brand enthusiast who wants to own the brand, it is on the other hand also the perfect place for the Royal Enfield aficionado to grow his / her vintage motorcycle collection.
Speaking at the Vintage Store Launch, Mr. Shaji Koshy, Head, India+ Business, said, "At Royal Enfield, we are constantly working towards offering new experiences and formats for our customers. With Vintage, we have created a place where epic motorcycling journeys, experiences, and stories will never end and will be passed on from one owner to another. We have observed healthy demand for refurbished and pre-owned Royal Enfield motorcycles, and believe that this business will continue to grow. We are targeting to open ten Vintage stores across the country in the first year"
The Vintage store will only deal in Royal Enfield badged motorcycles, and will have three lines of business. 'Pre-owned' motorcycles and 'Refurbished' motorcycles, wherein a thorough quality check is conducted and refurbishment is undertaken as per requirement; and 'Restored' motorcycles, wherein vintage motorcycles will be repaired and restored to original condition. Motorcycles will be quality tested, refurbished and repaired at the hands of trained Royal Enfield technicians and certified with optimum value. Each motorcycle will be refurbished with genuine motorcycle parts and spares and undergo a thorough 92-point quality check, thereby guaranteeing quality assurance and reliability.
With an aim to make the entire process hassle-free and transparent, Vintage Store will have a set of standardized processes and pricing for purchase and sale of pre-owned motorcycles. The store will offer assistance with financing options and also ensure motor insurance, warranty and post-sales service for motorcycles. With seamless paperwork and trouble free documentation process, the entire customer experience is smooth and effortless. Through Vintage, Royal Enfield will make the pure motorcycling experience more accessible for riders and enthusiasts
Vintage Store in Chennai is located at No. 27, Mylai Balaji Nagar, Velacery main road, Pallikaranai
About Royal Enfield:
The oldest motorcycle brand in continuous production, Royal Enfield made its first motorcycle in 1901. A division of Eicher Motors Limited, Royal Enfield has created the mid-sized motorcycle segment in India with its unique and distinctive modern classic bikes. With its new manufacturing base in Chennai, India, Royal Enfield is able to grow its production rapidly against a surge in demand for its motorcycles. With more than 50% growth every year for the last 5 years, Royal Enfield is fast becoming a very important player in the global mid-size motorcycle market and is working towards re-inventing this space with motorcycles that are evocative and engaging and great fun to ride.
Royal Enfield's product line‐up in India includes the Bullet, Classic and Thunderbird models in 350 and 500cc displacement along with Continental GT 535cc café racer and the purpose-built Himalayan powered by the new LS410 engine. Royal Enfield operates through 17 company-operated stores and 705+ dealers in all major cities and towns in India, and exports to over 50 countries across the world including the USA, UK, several European and Latin American countries, as well as the Middle East and South-East Asia.
Royal Enfield also organizes and supports many motorcycling events and rides globally, more prominently the Rider Mania – an annual gathering of Royal Enfield riders from all over the world to the lovely beaches of Goa, and the Himalayan Odyssey, the most arduous motorcycle ride over some of the toughest roads and highest mountain passes in the Himalayas. Royal Enfield also conducts the popular 'One Ride' where people around the world ride out on their motorcycles on the first Sunday of April.
To know more about Royal Enfield, the motorcycles, marquee rides and other initiatives, visit: http://royalenfield.com
Be a part of one of the largest communities of motorcycling enthusiasts; like Royal Enfield on Facebook
https://www.facebook.com/RoyalEnfield; Follow @RoyalEnfield on Twitter