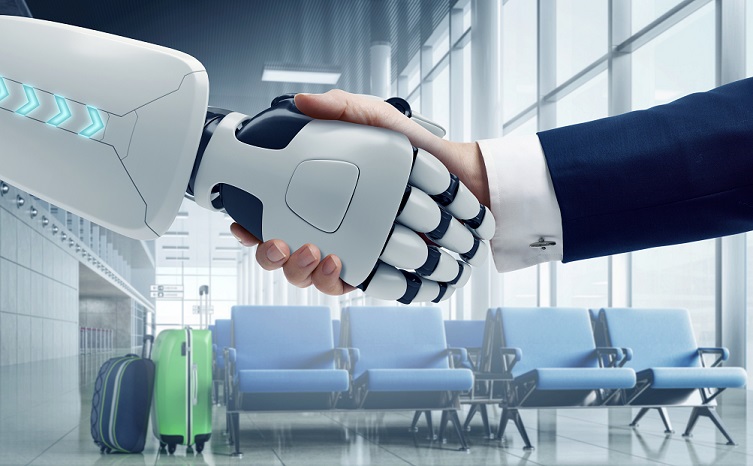 Airlines, airports look to artificial intelligence to revolutionize baggage management 
INDIA – 8 March 2018 – The smart use of technologies such as artificial intelligence is expected to revolutionize the management of baggage over the next decade, promising to make mishandled bags an increasingly rare event for passengers globally. This is according SITA's Intelligent Tracking: A Baggage Management Revolution paper published today.

The paper notes that more than 4.5 billion bags are handled by industry baggage systems each year but airlines and airports will have to cope with twice that number with passenger numbers set to double over the next 20 years. Already, through improvements to technology and processes, the air transport industry has halved its annual mishandling cost over the past decade from US$4.22bn to US$2.1bn. However, every mishandled bag is one too many and the industry continues to seek ways to reduce the number further.
Ilya Gutlin, President of SITA Air Travel Solutions, said: "We at SITA believe that harnessing data and AI in a meaningful way will revolutionize how we manage the air transport industry in the next decade. SITA has a unique role to play in realizing the potential of data and baggage management is one area that will benefit. It is an area we are strongly focused on, collaborating across the industry to innovate."
The industry's immediate focus is on implementing the International Air Transport Association's Resolution 753. The resolution requires member airlines keep track of each bag and share that tracking information with all involved in delivering those bags back to passengers at their destination. While the resolution will deliver accurate data on the journey undertaken by each and every bag, the industry is already looking beyond the resolution to develop an even more accurate model for baggage operations.
Ilya Gutlin, said: "The bag tracking data that will be generated and collected under Resolution 753 will provide the air transport industry with a rich stream of data. This can be enhanced with AI tools to create greater efficiencies in baggage operations and, ultimately, to improve our experience as passengers."
From an operations point of view, AI will allow airports and airlines to learn what baggage routes cause the most stress on their systems and what factors are most likely to cause them. These systems could also generate insight into the patterns of baggage movements that would enable airlines to deliver bags more effectively.
Using AI, intelligent machines will enable baggage to be autonomously managed from the moment a passenger checks in their bag to when it arrives at the destination – all without human intervention. For example, in this vision of the future, autonomous loaders could be used to transport bags between the terminal and aircraft. Baggage data will also allow airlines and airports to provide passengers more relevant information on their baggage as it makes its journey from departure to destination.
Already important progress in harnessing the power of AI has been made and the air transport community is learning from the experiences of the supply chain industry which is leading the way in implementing AI-led business models.
Ilya Gutlin said: "The digital transformation around baggage is already happening and the Intelligent Tracking: A Baggage Management Revolution paper discusses how harnessing AI will revolutionize our industry in the next decade. It will take time but AI will unleash the potential to make baggage operations more service orientated. This means baggage delivery becomes more secure and enables airports and airlines to deliver tailored baggage services to their passengers."
– ENDS –
Notes
SITA Baggage Report 2017
Tweet this
 Artificial Intelligence holds the promise of making mishandled bags a thing of the past. http://ow.ly/5Rsd30iIajt
SITA paper shows how AI will revolutionize baggage management in the decade ahead http://ow.ly/5Rsd30iIajt
Baggage delivery to become more secure and deliver tailored services for passengers. Get a view from across the industry. http://ow.ly/5Rsd30iIajt
Follow SITA online and at these links:
SITA photos available here: http://www.sita.aero/pressroom/image-gallery and videos and info graphics here: http://www.sita.aero/pressroom
For further information (not for publication) contact:
Notes to Editors:
About SITA
SITA is the communications and IT solution provider that transforms air travel through technology for airlines, at airports and on aircraft. The company's portfolio covers everything from managed global communications and infrastructure services, to eAircraft, passenger management, baggage, self-service, airport and border management solutions. Owned 100% by more than 400 air transport industry members, SITA has a unique understanding of its needs and places a strong emphasis on technology innovation.
Nearly every airline and airport in the world does business with SITA and its border management solutions are used by more than 30 governments. With a presence at more than 1,000 airports around the world and a customer service team of 2,000+ staff, SITA delivers unmatched service to more than 2,800 customers in more than 200 countries.
In 2016, SITA had consolidated revenues of US$1.5 billion. SITA's subsidiaries and joint ventures include SITAONAIR, CHAMP Cargosystems and Aviareto.
For further information go to www.sita.aero