¬Un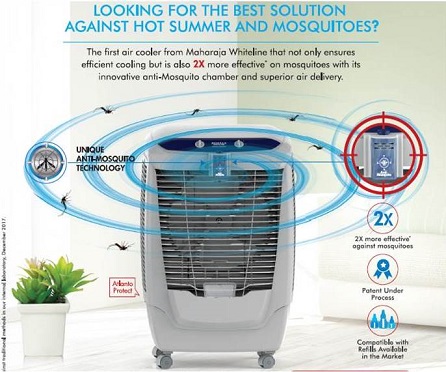 Unique anti-mosquito technology 2x more effectiveagainst mosquitoes,
at half the consumption of repellent*
¬compatible with any repellentrefills available in the market
¬ High cooling capacity

New Delhi / Chennai, 14th March, 2018: Scorching heat and the bane of mosquitoes are the biggest worries during summers. Maharaja Whiteline, the home-and-kitchen-appliance leader and flagship of Groupe SEB India presents Atlanto Protect air cooler, a perfect solution to this scourge. Atlanto Protect not only ensures efficient cooling butis also 2X more effective on mosquitoes* with its pioneering anti-mosquito chamber (patent under process) and superior air delivery.
The latest in air-cooling solutions from Maharaja Whiteline, Atlanto Protect' s uniquetechnology allows protection from the world's deadliest animal – the mosquito, cause for the highest number of vector-borne diseases. The technology enhances the air cooler with features such as:
Atlanto Protect has an innovative chamber (marked) which optimizes use of most anti-mosquitorepellents available in the market. This technology is 2X more effective on mosquitoes as compared to traditional methods.
Anti-mosquito technology: The innovative Anti-Mosquito chamber (Patent under process) fitted on top of the air cooler disperses mosquito repellent effectively making the area mosquito free and thus contributing to your holistic health regimen.
2X more effective*: With almost half the consumption of the repellent, the anti-mosquito chamber is twice more effective as compared to traditional methods, courtesy, wide and fast diffusion through the strong air flow.
The anti-mosquito repellent chamber is compatible with mostrefills available in the market. The chamber is user-friendly in design making it easy to install, replace or refill.
Considering that diseases spread by mosquitoes (dengue, chikungunya etc) return every summer and monsoon to wreak havoc, Atlanto Protect strikes at the heart of the malaise.
Ms. Florence Tardy, VP-Marketing, Groupe SEB India, said:"Maharaja Whiteline's leadership position hinges on the brand's value-for-money identity. Innovation that brings tremendous results, is at the core of our differentiating proposition. Atlanto Protect's anti-mosquito capability showcases Groupe SEB's ability to address the discerning consumer's needs of health and easy living, alongside comfort. Maharaja Whitelinehas transitioned to a brand whose popularity rests on introduction of products with unique technologiesacross categories, innovative features, superlative after-sales service, and of course, not just looks but quality too."
Along with unique anti-mosquito capabilities, the Atlanto Protect has a coverage area of 600sq. ft. and is packed with features such as high air-delivery, stronger air throw, 4-way air deflection, large water tank to reduce refill needs and, wheels for easy mobilityto mention a few.
Notwithstanding anti-mosquito Atlanto Protect, the Atlanto series of air coolers is alreadypopular with Atlanto+ and Atlanto, known for their design, cooling efficiency and durability.
*Tested against traditional methods in Groupe SEB laboratory under standard conditions – December 2017
About Groupe SEB India:
Groupe SEB India is the Indian arm of Groupe SEB, a France-based global leader in small equipment segment. In 2014, the Groupe acquired Maharaja Whiteline a leader in small domestic appliances in India. The conglomerate is a leader in mixer grinder, juicer-mixer grinder, air coolers and room heater categories in the market. Headquartered in Delhi, the Groupe has over 22 branch offices, 750 Distributors and 40,000 Dealers across the country, along with an in-house manufacturing facility at Baddi (Himachal Pradesh) spread over more than 10 acres. Maharaja Whiteline offers products under three categories, including Kitchen Appliances, Home Comfort and Garment Care.
For more details Call 1860 180 4111 or visit www.maharajawhiteline.com