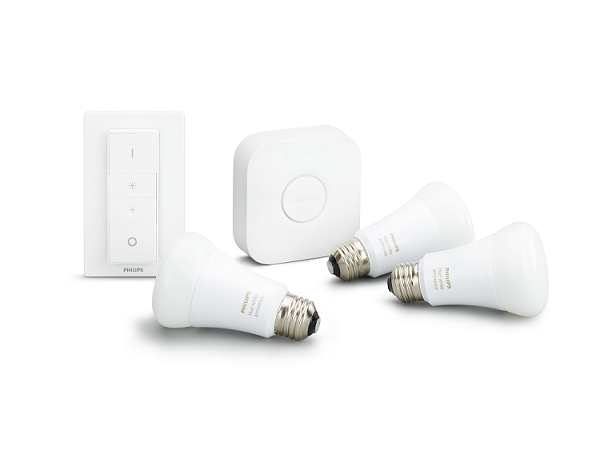 Chennai/ India– Marking the World Sleep Day on March 16, Philips Lighting (Euronext: LIGHT), the world leader in lighting, has announced a special discount on its White Ambiance starter kit in India to celebrate this day. Customers in India can avail up to 20% discount on Philips Hue White Ambiance starter kit purchased on Amazon.in between March 14 and 20, 2018. World Sleep Day is an annual event, intended to be a celebration of sleep and a call to action on important issues related to sleep.

While there are many factors that contribute to a good night's sleep, most of them can be controlled and enhanced, such as the ambience of your bedroom. Research states that light has a profound impact on regulating the human body's 24-hour circadian rhythm and plays a critical role in how people wake up and fall asleep.  Philips Hue White Ambiance can support a better night's sleep by automatically and slowly dimming down two hours before bed, using the Philips Hue app. Then, in the morning, you can wake up more gently, having set the lights to gradually brighten, mimicking the sunrise.
Scientists at Philips Lighting research recommend that we should be consistent with our sleep schedule and establish the right bedroom environment to ensure that we get the best quality sleep possible. Philips Hue White Ambiance is perfect for your bedside lamps, so you can use connected lighting to help benefit your sleeping patterns. It provides a certain level of light, during the night and when getting ready for bed in the evening, that has minimal impact on your natural production of the sleep supporting hormone melatonin, thus helping you to sleep better and feel more refreshed in the morning.
Control your lighting, your way
The Philips Hue White Ambiance light bulbs are controllable via your smartphone, switch, wearables, or other smart accessories. It provides a broad spectrum of white light; from a cool, bright light, perfect for when you need to concentrate, to a warm light for when you want to create a cozy ambiance.  You can personalize your lighting based on your mood or activity, choosing from four different light recipes: energize, read, concentrate, and relax.  The Wake Up & Go function can help to sync your sleep routine with your biological clock, while the Nightlight feature creates a warm, low light if you need to get up in the middle of the night, with the Philips Hue motion sensors.
A better night's rest
Combine your sleep environment with the following good habits to ensure a sufficient amount of rest each evening.
Keep a consistent sleep schedule: our biological clock is not as flexible as we think; it can only shift by about 1 hr. per day. When we try to shift our sleeping patterns beyond this limit, we will experience jet-lag-like symptoms. We are creatures of habit and establishing a consistent bedtime routine will help you fall asleep easier and function better when it is time to wake up
Unwind and set the right ambiance: Setting the right ambiance with reduced levels of warmer, sunset-like shades of white light before bedtime supports sleep hormone –melatonin – production, and therefore enhances our sleep quality
Tone down the use of technology before bed: try to avoid intense light with cool blue tones, as these would suppress the sleep hormone. Tuck away your mobile phone, computer or tablet, and avoid stress or overstimulation prior to bedtime, as these can disrupt your ability to fall asleep
Learn more about how light affects sleep and energy levels here: https://www.youtube.com/watch?v=z9FUX6PNdvA&t=5s
For more information about Philips Hue, please visit www.meethue.com.
For further information, please contact:
Philips Lighting South Asia
Natasha Tandon
Tel: +91 98 11 72 64 50
E-mail:natasha.tandon@philips.com
Avian Media, Chennai
Krishna Moorthy – 9442191717
About Philips Hue
Philips Hue is the world's leading connected lighting system for the home. It comprises bulbs, strips, spots, lamps and controls. Through a vibrant developer program there are more than 750 third-party apps for Philips Hue. The system is transforming how light is used in and around the home to stimulate your senses, light your moments and helps to provide peace of mind when away from home.
From the launch of Philips Hue in October 2012, Philips Lighting has encouraged other companies to develop devices, apps and systems that interoperate with the system. From third-party apps and wearable technology, to internet services and connected home products, Philips Hue goes beyond illumination to provide more than just light – to deliver new experiences where the only limit is your imagination. For more information, please visit www.meethue.com
About Philips Lighting
Philips Lighting (Euronext: LIGHT), the world leader in lighting products, systems and services, delivers innovations that unlock business value, providing rich user experiences that help improve lives. Serving professional and consumer markets, we lead the industry in leveraging the Internet of Things to transform homes, buildings and urban spaces. With 2017 sales of EUR 7.0 billion, we have approximately 32,000 employees in over 70 countries. News from Philips Lighting is located at the Newsroom, Twitter and LinkedIn. Information for investors can be found on the Investor Relations page.