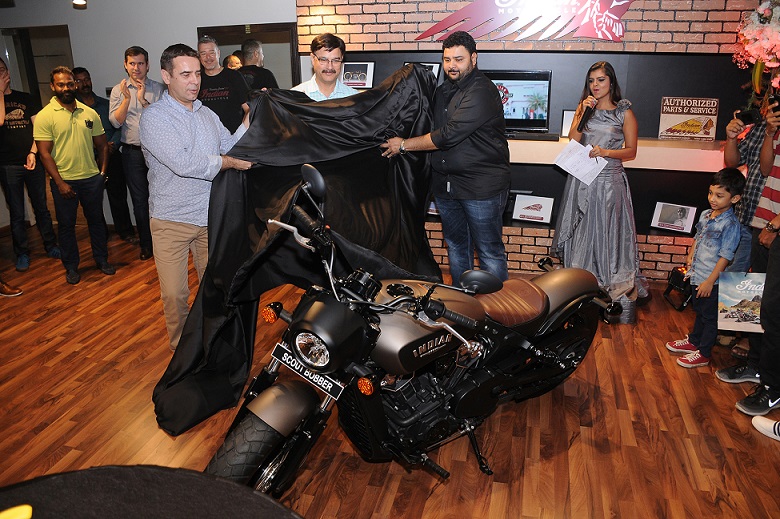 Strengthens its legendary Indian® Scout® line up in Southern-India
Powered by legendary 1133 CCLiquid Cooled V-Twin engine
Priced at INR 11,99,000onwards (Ex-Showroom), Indian®Scout™ Bobber is available in five colours
Features a Slammed Stance, Chopped Fenders, Blacked-Out Styling and Knobby Tyres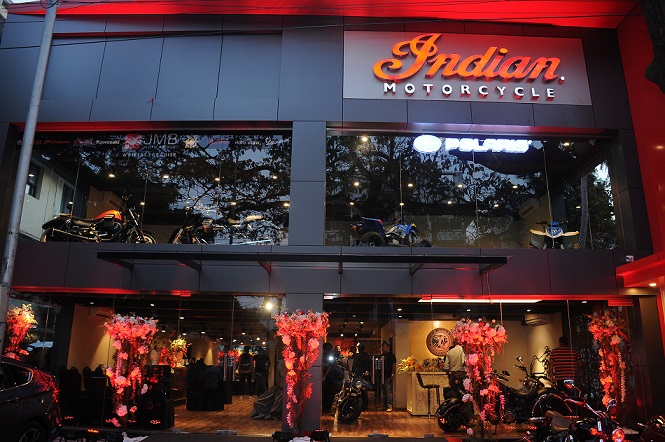 Chennai, March 14, 2018:Bringing the legendary Scout™ familycloser to biking enthusiasts of Southern part of the country,Indian Motorcycle®, America's First Motorcycle Companytoday launchedthe mean looking Indian® Scout™ Bobberin Chennai, Tamil Nadu.
The raw and powerfulIndian® Scout® Bobberproduces 94hp and 97nm torque at 5,600rpm. This is the most adrenaline rushing machine to date in the Indian Motorcycle®line-upthat proves less is definitely more.Itis powered by liquid cooled V-Twin engine and is coupled to a6-speed transmission.The Indian® Scout™ Bobber is priced at INR 11, 99,000onwards (Ex-Showroom).
Commenting on the launch of the raw and meanIndian®Scout™ Bobber, Mr. Pankaj Dubey, Country Head and Managing Director, Polaris India Pvt. Ltd. said, "The launch of the Indian® Scout™ Bobberwill take the biking experience to new peaks. The Indian® Scout™ Bobber comes in with all new style, matte finished chrome, attractive colours and better riding position. It has eye-turning features like Slammed Stance, Chopped Fenders, Blacked-Out Styling and Knobby Tires. I am confident that this motorcycle will attract a good number of customers and young cruiser aficionados in the state. It will surely make all heads turn, thanks to the powerful road presence this bike shall offer. It may be stripped down, but at the same time it delivers a ton of power and attitude"
"The all-new Indian® Scout™ Bobber is a stunning new addition to the legendary Scout™ familytaking the legendary quality and craftsmanship of an Indian motorcycle® to the next level. We are committed to provide global standards of after-sales and service support to add to the overall experience of owning this mean machine from Indian Motorcycle® line-up, said Mr. Satish Mehta, Executive Director, JMB Motor."
The key features include a black headlight nacelle, minimal engine covers and vented exhaust shields.  The Indian® Scout™ Bobber hasa black gauge face on its instrument panel and black exhaust which adds to its blacked-out styling. The new block letter logo on the tank compliments the muscular look of the bike.
The handle bars and pegs have moved 38mm closer to the rider giving an aggressive riding position. The front and rear Chopped Fenders and a new two-tone genuine leather bobber seat enhance the rawstyling.  The all-newKnobbyTyres and blacked-out wheels will keep the rider grounded and help in overall rider confidence and control.
The touring comfort can be further enhanced with a full line of accessories including theIndian®Scout™ Bobber passenger seat with sissy bar, Scout®Bobber Solo Rack Bag & Saddlebag.The new Scout™  Bobber would be available in five colours, including Thunder Black, Star Silver Smoke, Bronze Smoke, Indian Motorcycle Red, and Thunder Black Smoke.
About Indian Motorcycle®:
Indian Motorcycle®, a wholly-owned division of Polaris Industries Inc. (NYSE: PII), is America's first motorcycle company. Founded in 1901, Indian Motorcycle® has won the hearts of motorcyclists around the world and earned distinction as one of America's most legendary and iconic brands through unrivalled racing dominance, engineering prowess and countless innovations and industry firsts. Polaris India brought the entire Indian Motorcycle®'s Chief® range – Indian® Chief® Classic, Indian® Chief® Vintage, Indian® Chieftain®, and Indian® Chief Dark Horse® to India. The Indian® Scout™ Sixty, Indian® Scout™, Indian® Scout™ Bobber, Indian® Roadmaster®, Indian Springfield™ and Indian® Chieftain Dark Horse® are also available in India. The Indian Motorcycle® range is available in India at New Delhi, Bengaluru, Chennai, Hyderabad, Mumbai, Ahmedabad, Chandigarh and Jaipur/Cochin/Guwahati (Coming soon).
Indian Motorcycle® product range starts from INR 10.99 Lakh (Ex-Showroom)
To learn more, please visit www.indianmotorcycle.com/en-inand like us at www.facebook.com/indianmotorcycleindia