15 achievers from various categories honored

Chennai, 26th March 2018:Once again, at a scintillating evening of music, diversity and range the2ndedition of the Pride of Tamil took place at Chennai on Sunday, March 25th2018 at Feathers – A Radha Hotel, Porur. From amongan extensive range of statewide achievers, 15 well deserved ones were the awardees this time. The recipients were picked out by the discerning jury members comprising Mr. Dhananjayan Film Producer, Documentary Film Maker & Founder of BOFTA Film Institute, Dr. Regeena J Murli Managing Director Jeppiaar Group of Institutions, Ms. KhushbuSundar Actress, Film Producer, Politician, Mr. KS Viswanathan CEO, Chennai Super Kings, Mr. Sanjay Pinto Lawyer, Columnist, Author Former Resident Editor of NDTV 24X7 and Ms. Leela Samson Dancer & Choreographer.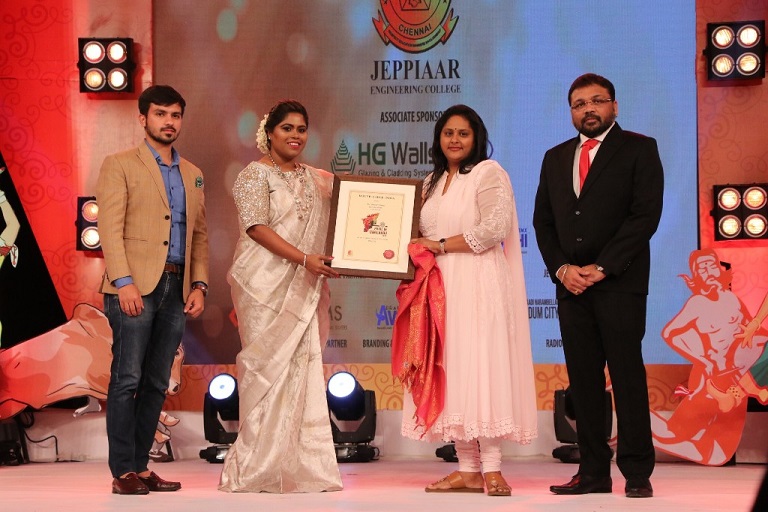 The evening's programme featured a galaxy of artists and creative minds.What then followed was a veritable array of outstanding awardees, who inspired and stimulated the entire audience at the hall.The evening ended on a high-note with both the recipients of the awards as well as the audience leaving as inspired and empowered individuals.
The awards fall into two categories – Inspirational Achiever and Emerging.  The Award for InspirationalAchievers are leaders who are already leading or have achieved name & fame in their respective field. These awardees would have also been a role model to many aspiring personalities. This category of award is selected by Jury. The Emerging Awardsare presented to identify and recognize emerging personalities for achievements and contribution in their respective field. This category of awards has been selected through Nominations, Voting and Jury committee.
The awards have been handed out under categories such as Art & Culture, Sports, Healthcare, Social Impact, Retail, Entertainment – Female, Entertainment – Technical, F & B, Journalism, Education, Literature, SME, Agriculture and Start-ups.
The nomination process started 20 days prior to the event where every individual who desired to participate nominated themselves for the suitable award category. Based on the nominations the award category was filled in helping the jury to identify the right talent of the year. The Pride of Tamilnadu awards were announced on a National media platform covering Print, Television andRadio.
This year's achievers are:
PRIDE OF TAMIL NADU INSPIRING CATEGORY:
| | | |
| --- | --- | --- |
| Categories | Name | Organisation |
| ADMINISTRATIVE SERVICES | Dr. J  Radhakrishnan , IAS | Tamil Nadu Government |
| | | |
| ART & CULTURE | Padma BhushanThiru.T H VikkuVinayakram | Individual Percussionist |
| | | |
| SPORTS | Padma Shri.Dipika Pallikal Karthik | Indian Squash Player |
|   | | |
| HEALTH CARE | Dr.ArokiaswamyVelumani | Thyrocare |
| | | |
| SOCIAL IMPACT |  R. Pradeep John | TN Weatherman |
| | | |
| RETAIL | KanniUvaraj | Poorvika Mobiles |
|   | | |
| ENTERTAINMENT – FEMALE | RaadhikaSarathkumar | Radaan |
|   | | |
| ENTERTAINMENT – TECHNICAL | Director J. Mahendran | Director |
| | | |
| F& B | P. Suresh | Sangeetha Veg Restaurant |
|   | | |
| JOURNALISM | Bhagwan Singh | Deccan Chronicle |
|   | | |
| EDUCATION | Dr.Ishari K. Ganesh | Vels University |
|   | | |
| LITERATURE | Sivasankari | Author |
|   | | |
| SME | A. D. Padmasingh Isaac | Aachi Masala |
|   | | |
| AGRICULTURE | P. K. Deivasigamani | TN Farmers Association |
| | | |
| START-UP |   Joshua Madan | Covenant Consultants |
PRIDE OF TAMIL NADU EMERGING CATEGORY:
Mr.Sarvesh Raj – Deputy Commissioner of Police, Ambattur
Ms.Mangai – Founder- Marappachi – Tamil Theatre group
Ms.N. Srinidhi- South Zone (JBC- Junior Badminton Championship)
Dr. Aravindan Selvaraj – Co founder of Kauvery Hospital
Mr.R. A.IsraelJebasingh- Director, Officers IAS Academy
UzhavuKavingarUmayavan-Writer
Mr. Balaji& Dr. Balathandayuthabani   – Founder – B & B Organics Store
Ms.GeethaKandhan, Director of KOVAI PAZHAMUDIR NILAYAM
Ms.SangeethaKandavel- Business Correspondent – The Hindu
Mr.SivaElango – President of Satta Panchayat
Mr.RajaMarthandam- Founder of Shudh Farms &Dhenu Cattle Conservation Foundation
Mr.Ramakrishnan– Founder- ONE POT ONE SHOT
HiphoptamizhaAdhi, Actor- Director- Music Director
Ms.Aishwarya Rajesh – Actress
About Pride of Tamil Nadu: Pride of Tamil Nadu is the brain child of MSRT 39 to identify, recognize and celebrate talents from TN. This will be unique, fair and will be regarded as the most prestigious award of TN. Pride of TN not only will celebrate biggest successes in TN but will also operate as medium to congratulate people who are making their state proud. Personalities across various / diversified fields will be awarded for going an extra mile in this competitive world. It is a recognition for all the hardships and challenges that went into carving themselves, and also inspiring the next generation not only to be successful but also make the state they come from PROUD.
About Madras South Round Table:The Round Table is internationally, a friendship organisation, founded in Norwich, England by Louis Marchesi, then a Rotarian in 1927. From a small group of 8 members, today it has grown to over 43,000 members across 52 countries representing every corner of the world. Round Table came to India in 1957 with the formation of Madras Round Table No 1 on November 14th 1962 by John Barton. Over the past four decades it has grown to become a 4,000 member strong association. Madras South Round Table 39 is the 39th table formed in India during the year 1977. MSRT 39 consists of 20 tablers and 2 Honorary tablers, Chaired by a professional banker Ankit Gupta who works with Barclays Bank. The Vice Chairman of MSRT 39 is Amit Chowdhary who owns a reputed Bathroom fittings showroom, Secretary Sarvesh Patel who runs a high end furnishing store, Treasurer Sudheer Paul a diamond Merchant and Vishal Goel the immediate past Chairman into the world of printing. To date MSRT 39 has built over 50 classrooms, supported the city during the disastrous movements such as Tsunami, Flood, Cyclone etc. MSRT 39 has conducted many musical nights such as Sunidhi Chauhan, Shreya Gosal, Comedy Nights, Inter Corporate Cricket matches; Fun and Fair events where all funds raised was used towards the construction of class rooms for the underprivileged children.