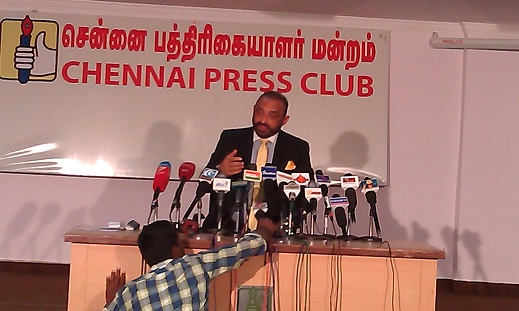 Awareness on safe driving is the need-of-the-hour
Tamil Nadu is the Top Killer States in India with increasing deaths by over-speeding vehicles
Blatant affixation of Speed Limiting Devices through unapproved manufacturers on rise
Immediate Precautions by the Transport Department in the State will help in minimizing Road accidents & resultant deaths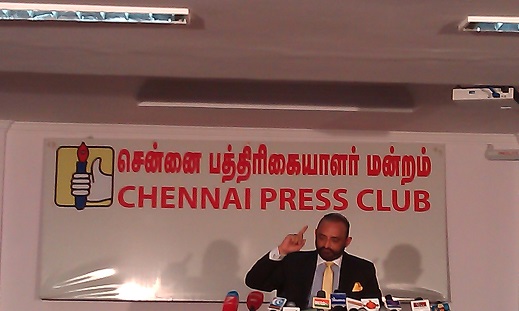 Chennai, March 18, 2017
 "Awareness on safe driving is the need-of-the-hour. Commuting safely with conviction not to risk precious life of own or others will help drastically reduce the road accidents. Fitting quality speed governing devices is a must. Tamil Nadu has reported the highest number of road accidents and Top Killer States in India. As per the National Crime Records Bureau report for the year 2015, in the State of Tamil Nadu 69059 road accidents took place with 79746 injuries and 15642 deaths. The figure in the year 2014 was 67250 crashes, 77725 injured & 15190 deaths," said Dr. Kamal Soi, Member – National Road Safety Council, Ministry of Road Transport & Highways, Government of India & Top International Road Safety Expert, in a press meet organised today (March 18, 2017) in the city.
The Chennai initiative was part of his nation-wide awareness campaign following press conferences in Kerala, Maharashtra, Madhya Pradesh, Gujarat, Rajasthan, West Bengal, Odisha, and Delhi.
Commercial Vehicles on highway with high speed are one of the main reasons for road accidents and deaths accounting for over 40-50% of road accidental deaths. The Central Government has issued its notification No. 290(E) dated 15.04.2015 making compulsory fitment of Speed Governors for various categories of Transport Vehicles keeping in view this fact.
"I have been actively working since 2006 to focus on the concerns relating to road safety and working on sustainable transportation with the ethos `Road safety is way of life'. Lawlessness on regulations for implementation on fitment of Speed Governors is boosting the blatant affixation of Speed Limiting Devices (SLDs) through unapproved manufacturers. A representation was already made with the officials of Transport Department, Tamil Nadu, suggesting process and precautionary measures which, if implemented would surely reduce road accidents & resultant deaths to a reasonable extent," he said.
He added that the Speed Governors which are mandated by the Hon'ble Supreme Court & Ministry of Road Transport & Highways, Government of India, are to be installed under the strict surveillance of the transport Department through a legitimate tender/eligibility criteria process.
Guidelines were issued by The Ministry of Road Transport & Highways, Government of India vide its communication dated 16th June, 2016 which are to be adhered by all the states for proper installation of speed governors of prescribed standards. Further State(s) may frame appropriate eligibility criteria for effective implementation and Individual State(s) may incorporate /mandate any additional condition to ensure effective implementation of Speed Limiting Device fitment including submission of periodic reports, process, audit etc.
"Certain unscrupulous and unapproved SLD manufacturers in the state, namely:
M/s Eco Gas Impex Pvt. Ltd.
M/s Craysol Technologies India Pvt. Ltd.
M/s Hovel Scales & System
M/s Micro Autotech
M/s Digila Devices India Pvt. Ltd.
are continuing their malice practices of affixing unapproved speed governors in the vehicles, which is a clear case of their unlawful intent and it is only to make myopic short term gains by committing breach of the Rule of Law by manufacturing and installing such SLDs that are in complete defiance to the mandatory laws & Rules made and amended time to time in this regard," he remarked.
The unlawful manufactures catering to the demands of the state are to be seriously dealt with by law. Immediate Precautions by the Transport Department of Tamil Nadu will help in minimizing Road accidents & resultant deaths.
Dr. Soi is doctorate in the Transportation Management & In Transit Losses with special studies in Road Safety & Accident Prevention and has been working in the field of Transportation Management, ITS, Road Safety, Accident prevention for the last 16 years. He also possesses additional qualifications in Road Safety & Accident Prevention from Hasselt University Belgium & SWOV Institute & Delft University Netherland.   He has been awarded Royal Certificate of Excellence by Delft University Netherland. He is also recognized as one of the top Smart Transportation & Road Safety Scientists in the World. He is on board of various National / International Organizations like Institute of Transport Engineers, Chartered Institute of Highways & Transportation – UK, Australian College of Road safety. Dr Soi is an advisor to World Bank project in Himachal Pradesh through Transport Research Laboratory United Kingdom.