Partners with Kutty Padmini and Kaushik Narasimhan for its first Tamil show, Maya Thirrai
Chennai, 26th May:  India's largest online platform for original shows, ALT Balaji announced the release of its first Tamil show#ALT Balaji Original Maya Thirrai. All 16 episodes of the show are now available exclusively on ALT Balaji platform.To mark ALT Balaji's entry into Tamil regional entertainment space, Ekta Kapoor brought together distinguished team of director Kaushik Narasimhan and producer Kutty Padmini.  Maya Thirrai– a romantic thriller has southern superstars Nandha Durairaj, Eden Kuraikose and Lakshmi Priya making their debut on the digital platform.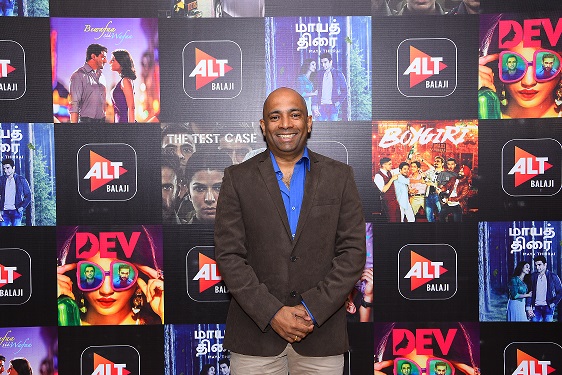 Maya Thirrai, which means illusions is a mysterious tale of a woman named Sandhya, tangled in her own reality. Despite having everything, she always felt a void and finally after years of waiting, she bumps into the handsome Prakash, who comes with a promise of all she ever wanted. Little did she know that her picture-perfect marriage was nothing but just an illusion. The dramatic story line as well as the shocking twists and turns definitely promises to make this digital show a compelling watch!
"With the expansion of internet and smartphones, the way audience consumes entertainment has changed drastically. ALTBalaji is targeting urban masses in over 60 cities, reaching out to about 75 million people via our app.  The online entertainment option available to this section is either to watch non-Indian English or Hindi shows. There is definitely a gap here and a huge potential which could be tapped with our exclusive regional shows. ALTBalaji aims to penetrate into deeper pockets of Indian market through regional shows hence, 25% of our shows will be in non- Hindi languages including Tamil, Bengali, Punjabi, Telugu, Gujarati, Punjabi etc. Maya Thirrai is our first step in this direction and we are confident that the audience will be thoroughly entertained by it", said Nachiket Pantvaidya, CEO, ALTBalaji.
Producer KuttyPadmini adds, "I am glad to bring Maya Thirrai to the Tamil audience, it is gripping and has great surprise elements.  Digital shows are future of entertainment, hence the show is very special and marks an important move for us. Collaborating with Ekta Kapoor has been a great experience, it's gratifying to see how our vision has transformed so beautifully on the canvas. I am hopeful that our audience will love the show."
 On his digital debut and association with Ekta Kapoor, Kaushik Narasimhan said, "Digital is the core focus of the entertainment industry today and I am glad to be venturing into this space with, who better than ALT Balaji. As a director, I am always on the lookout for fresh and creative story line and Maya Thirrai is such addition. The plot is very exciting and each episode will surely get the audience stunned and looking for more."
About ALT Balaji               
Balaji Tele films foray into original shows on digital platforms, ALT Digital Media Entertainment Limited is a wholly owned subsidiary of Balaji Tele films Ltd. A multi-device Video On Demand Platform, ALT Balaji gives audiences the content they want to watch – whenever, wherever and however. ALT Balaji's offerings include premium, disruptive content and original series across genres. With originality, courage and relentlessness at its core, ALT Balaji's content stands out for being avant – garde, non-conformist, inclusive and effervescent. ALT Balaji is here to set new standards and benchmarks in giving digitally connected contemporary audiences.