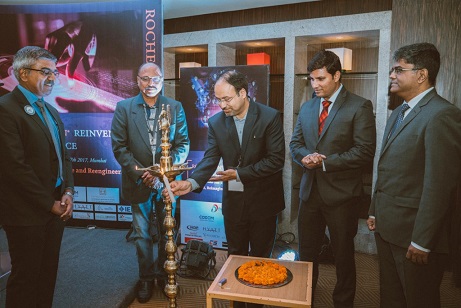 Photo Caption: (F

rom  left to right) 

Vasanth Davis VP Rocheston,

 ABRP Reddy CEO MindHour; 

Fr. Biju  Vice Principal, Christ University PU College; 

Stalin M Cheif sales officer Express Exclusive; 

Debashis Sarkar , Author and Managing Partner Proliferators 

at the inauguration of Rocheston Reinvent 2017 at Mumbai

Over 500 delegates participated
Well-appointed AI Experience Zone powered by CODEM Consultancy, a global technology provider
Mumbai, Nov. 17th, 2017:  Rocheston, a leading New-York based Accreditation Institution, that helps organizations adhere to best business practices, hosted its flagship conference, 'REINVENT 2017' in Mumbai on November 16 and 17, 2017 at Hyatt Regency. The two-day conference on IoT & Big Data brought together experts and global keynote speakers to showcase the growth of Industrial Automation in India with a special emphasis on the impact of Industry 4.0, AI/ Robotics, Internet of Things (IoT) and Big Data across sectors – Aviation, Smart Cities, Agriculture, Automation, Business Efficiency, Education & Learning, BFSI, Regulation & Governance, Product Innovation, Mobility & Telecom.
With technology disrupting every sphere of business and life, REINVENT showcased the latest in the field of technology and innovation across the world. The conference also featured lucrative certification workshops, roundtable discussions & a well-curated AI Experience Zone reflecting pioneering technologies that are pivoting business models. In addition, the conference also included a design innovation award ceremony.
Some of the Global Leaders on the speaker panel included–
·         Masayoshi Tamura, General Manager, Hitachi – Digital Solutions and Services Group
·         Ravinder Pal Singh, Director – Strategic & Mega Projects, Dell Technologies
·         Karthikeyan Natarajan, Global Head – Engineering, IOT and Enterprise Mobility, Tech Mahindra
·         Amarjeet Mundi, Portfolio Manager and Senior IoT Solutions Architect, IBM Internet of Things Solutions
·         D Peter Immanuel, CEO, Aerospace and Aviation Sector Skill Council (AASSC)
·         Debashis Sarkar, Author, Managing Partner – Proliferator Advisory & Consulting & Fellow of American Society of Quality
·         Chandni Jafri CEO, Mumbai Angels Network
Speaking on the occasion, Mr.Haja Mohideen-President & CEO Rocheston LLC, New York, said "We are almost reaching a technology tipping point and the internet of things is only going to expand. Today business enterprises, powered by IOT and machine learning techniques have become the prime mover of the modern economy. As the environment gets competitive and critically wired, it's important to understand how such game changing technologies could be made actionable to radically transform business outcomes. In the view of this backdrop, REINVENT is designed to offer a window to the future of technology in business and inspire growth driven professionals to stay ahead of the curve. With digitalisation forming the crucial pillars of new India, the country is gradually becoming the centre of innovation and technology."
Over 500 delegates including CEOs, CTOs, CIOs, CMOs, CFOs, Entrepreneurs, Innovation Managers, Startup Founders, Researchers, Scientists, Academicians and Government bodies participated in this mega Innovation conclave.
"While technology cannot completely replace human intervention, the conference shared a well rounded approach on combining the powers of AI and Human Intelligence to amp up business success. It was an enriching digital conference led by an illustrious group of technocrats and a great platform for aspiring organizations to network with thought leaders and gain fresh perspectives on multiple facets of industrial automation. The AI Experience Lab was the biggest highlight where one could get a first hand feel of how technology is seamlessly merging with the real time business environments. I am glad for having been a part of such a big technology conclave." added a participant.
In addition to the futuristic keynotes & in-depth training workshops, the AI Experience Lab was a big draw among the speakers, guests & delegates while it showcased a gamut of technological innovations with AI Robot-Cobot simulations, such as:
Driverless Cars
Internet connected smart cities and intelligent sensors
Voice activated automation devices
Artificial Intelligence and Virtual Reality
Patient Empowerment with Health Monitoring app
Re-Skilling and Skill Enhancement with online Learning
Drones Engineering
"We are happy to have CODEM as the AI Zone Partner. CODEM is committed to building a future for Science, Technology, Engineering, Math & much more" Mr. Haja Mohideen, further added.
The two-day conference was aimed at providing the participants valuable inputs on how to incorporate innovation into the various aspects of business and helping entrepreneurs transform their companies into leading authorities in their respective industries.
ABOUT ROCHESTON
Rocheston is an innovation company with cutting-edge research and development in emerging technologies such as Internet of Things, Big Data and Automation. The company's motto is to 'Be Exceptional' and aspire to be a global force at the forefront of innovation in the world. Led by a team of professionals who share a passion for research, understanding emerging technologies, the need for change and the scope for innovation, Rocheston is working towards creating products that can help organizations to thrive in dynamic business environments.